Yup, I'm at it again. But don't worry, this is a short one. The subject today?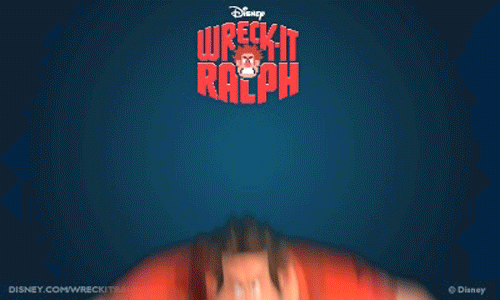 Now don't get me wrong, I thought this show was pretty darn cute. But something struck me as I was watching it. Honestly something that felt like it undermined a pretty important plot point. (Although maybe the idea was there on purpose)
That idea being that Ralph never was the villain/bad guy. And I don't mean just that he was always a decent guy who was given the bum rap by the people around him since they refused to get to know him.
I mean that he was never the villain of his own game. Now, stick with me here, because I know this is sounding crazypants, but you might be thinking, "Alright. If Ralph wasn't the villain of the Fix-It Felix game, who was?"
Was it Felix? Nah. Odds are good that he's just a superintendent and therefor not the mastermind behind the true villainy.
So, who is it? The Nicelanders with their mean and closed minded attitudes towards Ralph? Nah. They certainly don't help, but no. Well...not entirely....It isn't the entire population that is at fault.
Just one of them. And not just because he's a raging douchebag.

This is Gene. According to the Disney wiki, he is the mayor of Niceland and likely owner of the building and employer of Felix.
He is also a monster.
He invaded a beautiful land filled with trees and nature and bulldozed it all down to make way for his pint-sized group of tenants. It's not their fault when it boils down to it. They don't know what methods their leader is using to get them housing. All they know is that the building they are given is their home and that's that.
But I'm sure Gene knows what he did. Because there was a native living on that land. Completely content with his surroundings. And he needed to go to make way for the home being build for these digital settlers.
His land was torn up and he was shunted off into the barren land of the dump and expected to stay there. Any claim to the land he once has was tossed aside with the trash. And to make matters worse, due to his justifiable anger, he was demonized in the eyes of the people who were unwittingly living on his land. They didn't see it as his brave fight to reclaim his lost home. They saw him as a violent monster threatening them for no reason other than to take away what they had and treated him as sub-human over it. All he ever wanted was his home returned or, if nothing else, some kindness from those who stole it.
And, come the end of the movie, he still lives off in the dump, albeit a slightly nicer dump. And he's contended himself with the occasional kindnesses shown to him and the small bit of land left to him. The Nicelanders keep his land as that was an unchangeable fact and Gene is still a monster and the true villain who made it all happen.
Wreck-It-Ralph live action movie, anyone?