I get a fun kick out of over thinking the stuff I watch with my daughter. Bear in mind, this is entirely meant to be a joke. I do not honestly believe any of the kids cartoons or movies I talk about are a threat to kids or purposefully teaching them bad things.
I'm just odd and like to have fun with that.
That being said, first up is the ever so British "
Angelina Ballerina
"
Not the new one, I should point out. Though comments could be made about her in that series, you can tell they tried to smooth her edges in that one. And I don't mean by just giving her a 3D model.
I mean this one. The old, animated series.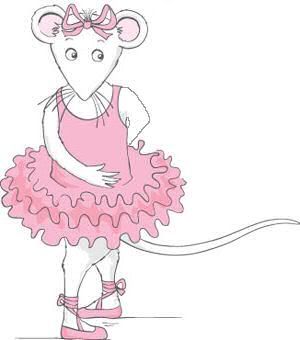 Looks pretty harmless, right? Cute little mouse in a tutu no matter which way you cut it and that's bound to be some good, clean ballerina fun for all aspiring little mini-dancers, right?
Unfortunately, Angelina comes with a very unique trait. Of course she has natural talent, but that's not it. What she has that makes this series border on bizarre is the fact that she is an absolute Prima Donna McDiva to the point where it's nearly shocking what she gets away with.
Let's start by looking at an episode to show you what I mean.
Quote:
"William the Conjuror"
William is prompted by his father to star as a magician for a charity event. When he practices the disappearing trick on Angelina, he and Henry believe she's disappeared for real. Angelina shows up in time to begin her performace with William.


Now, let me begin by saying that William is a character that only exists to be bossed around by the girls around him. Which is a shame since he's apparently the only male in his town to pursue his want to dance despite teasing over it. And his reward for it? The girls toss their bags in his face and treat him like a personal valet. Particularly Angelina, who will become exceptionally cruel with him if she doesn't get her way.

It's actually a major plot point of this episode. The kids will all be doing performances and Angelina automatically recruits William as her dance partner. But poor William wants to do something different instead. Rather than encourage her friend, Angelina berates and guilts him every step of the way until he agrees to dance with her after his magic act is done. All he asks in return is that she help him practice one single trick. Just one.

All she needs to do is get inside of a box that has an opening in the back, slip out of it and pretend to disappear, then sneak back in and pretend to reappear. It would take all of thirty seconds. Angelina decides, once inside the box after a lot of grumbling, that she's not going to uphold her part of the bargain. (though she still intends to hold William to his part of it) She slips out of the box and leaves in a huff not realizing she lost one of her ballet shoes behind.

William, not realizing that Angelina ditched him, believes she literally vanished and goes to great pains to try to find some magical means to restore her. Angelina on the other hand searches for William in turn for no other reason than she needs her shoe. The only thing she cares about is her own performance.

William goes to the recital to look for her and is pushed on stage by his teacher to perform his trick. He is nearly in tears when he tries to explain how Angelina vanished, but everyone essentially tells him to get on with it. Alice (more on her later) volunteers to help him out, even though she was struggling already with her concession stand since Angelina had promised to help her with that too and bailed on her.

Alice gets in the box, Angelina sneaks in backstage, retrieves her shoe and both she and Alice come out of the box together. Happy day. After it's over, she immediately rushes over and demands William perform with her and gives him and Alice no explanation as to what happened and why she caused them so much trouble. Not even so much as an apology.

That is Angelina in a nutshell. Because she is talented, her teacher Miss Lily gives her preferential treatment at all times and gives her every leading role she can get away with giving her. Angelina's parents allow her to scream, talk back and throw things when she doesn't get her way, and respond with nothing but gentleness and working to give her whatever it is she's having her tantrum about.

She ruins a Christmas pageant for everyone with her nasty attitude because she didn't get the lead and treats her family like garbage because she got kicked out of the performance? Her father responds by beginning work building her a fancy gift and her mother keeps trying to be upbeat and positive with her even when Angelina snarks and sulks at her. There is not one character that disciplines her.

In one instance a young foreign girl, Anya, whom Angelina had befriended earlier comes to stay with them. She is humble, talented, quick to offer her help when it's needed and hard working. And because of this, people become fond of her. Briefly Angelina is fine with this. But the instant her teacher says something that makes it seem as though she will take Anya to a special ballet performance and not Angelina. Even though Angelina openly admits that she's gotten to go and nobody else in the class -every single year her teacher has gone-. So she starts to mope and complain because she -always- gets to go and that's the way it should always be.

She ignores her friend's growing homesickness and becomes venomous with her anytime someone in her family has any praise for Anya or wants to talk with her about her stay until she explodes and tells Anya to essentially piss off and go stay somewhere else. Which she does and she leaves to stay at Miss Lily's house.

Is Angelina upset that she was so cruel? Not in particular is seems. It comes off more that Angelina is upset that her precious teacher now knows about what she's done. What does Miss Lily do to punish her? Nothing more than say she's disappointed in her and no more is said about it and immediately they go back to being Angelina being treated as the infallible star pupil. It's all she ever does when Angelina does something blatantly evil.

Now these are just a select few instances. Angelina is cruel to her young cousin to the point you will cringe, allows nobody else to spend time in the spotlight without her having a say in it and treats everyone around her as inferiors. Even her best friend Alice. And it seems as though nobody can say a word against her because he father happens to be the head of the town's newspaper. He even blatantly says in the one about the Christmas show where she didn't get the lead in Cinderella that he would make sure to write about how good she was as the Wicked Stepmother and has even allowed her to act as a reporter to attend a ballet where the tickets sold out before she could buy one. So it's no stretch to think he would abuse his position for her in other ways.

Now then, if Angelina really is so hateful and spoiled, why watch the show at all? Who would want to see a show where the most important character is a raging b***h?

That brings me back to Alice.





If you view her as the true protagonist, you find all of the good lessons you could possibly want in a kids show.

Alice is everything Angelina isn't. When Angelina is cruel to her little cousin Henry, Alice is the one to slip him a cookie and a smile to make him feel better. While Angelina gets by on her looks and talent and treats others like garbage, Alice simply tries her hardest to be the best possible person she can be. While people see Angelina as perfect and Alice as the butt of jokes for her weight and how much she eats, it doesn't stop Alice from not only doing ballet but being a very skilled gymnast as well. Something she doesn't brag about but simply takes pleasure in doing it.

Alice never demands the spotlight. She's happy to support the people around her. And at times, she will even get fed up with Angelina's selfishness and tell her off for it when nobody else has the stones to. But even then, even when she's justifiably fuming, when Angelina falls down a hole due to her own ignorance and hurts herself, Alice immediately puts her anger aside to help someone in need.

So I think Angelina Ballerina has an interesting question to put to young girls. Asking them which is better and showing them how both kinds of behaviour look to an outside observer. Is it better to be humble and good like Alice even if it means you might be overlooked? Or to be selfish and cruel and step on others to make sure you seize what you want from life like Angelina?

Is it better to define your own self worth with your actions, or to let the attention and admiration of others define it for you?

I think it's a show that opens a lot of interesting doors for parents to have conversations about with their kids. Asking what they think about Angelina's behavior as opposed to Alice. If they think what Angelina did was right and what they would do differently in the same situation. Would they be mad and hurtful to others too? Or would they find a different way to handle their feelings?

Overall, I like it. I just don't see it as Angelina being the star of the show.