Name:
Rebecca ''Revy'' Elbane
Age:
137
Gender:
Female
Race:
Magically enhanced human
Height:
5''4 Feet
Weight:
115 lb
Appearance: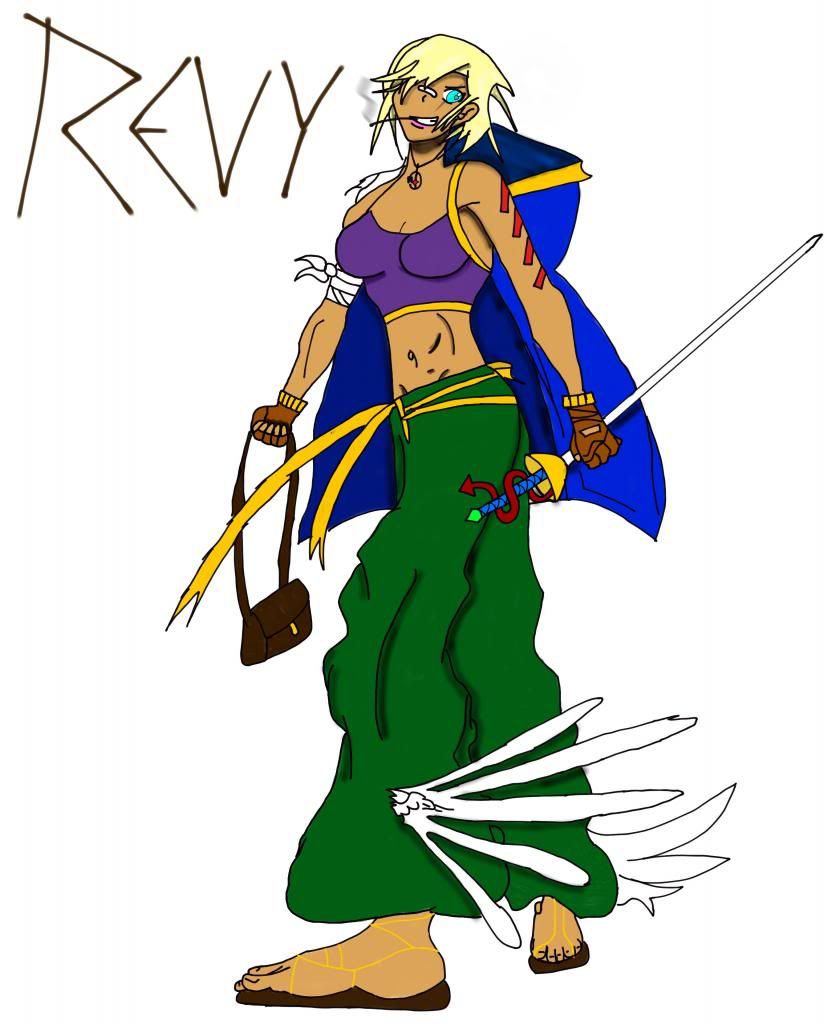 Revy is a woman hailing from a desert village, thus giving her a tanned skin.
As the results of magical experiments of her parents at young age, she has unnatural eyes that are a piercing blue colour, the same experiments have given her a crimson red tattoo on her right arm, in the shape of arrows pointing upward.
the result of her mercenary work has left her with a scar that never quite went away right over her right eye, she has semi-long blonde hair reaching down to just over her shoulders, as well as full pink lips, because of active training, she has a athletic, curved body, and as an agile and nimble fighter, she wears light, durable clothing, allowing a lot of freedom for movement.
Weapons:
Revy uses a rapier made of elven steel, a durable and light material that easily allows for spells to channel through it, making it the ideal choice for her fighting style.
Combining this with her frequent use of close range magic, it forms a deadly combination for enemies that get in range of her, her magic knowledge is broad, but specialized in close range combat magic and enhancing her own abilities for short periods of time.
special or racial abilities
Being a magically enhanced human, Revy has a lot of magical energy flowing through her blood, increasing her magical power, as well as her cell regeneration by an incredible amount, causing most wounds to heal at a much faster rate than that of any normal human, the same cell regeneration has made it so that she ages at a much slower rate.
Due to a lot of research, Revy has turned into a great alchemist, being able to transmute many things effortlessly and managing to make strong potions and poisons.
Weaknesses:
Overuse of her magic will cause the magical energy in Revy's blood to grow unstable, making use of more magic unreliable and if done anyway, there is a possiblity for it to cause not only extreme physical pain, but also to take a toll on her mind, plunging her into madness, the same magical energy also leaves her with stronger magical offensive abilities, but it makes her weaker to raw magical or arcane energy if hit with it directly.
Personality:
Not letting much of her past out to most people, Revy is a slightly mysterious to some, but overall, she is a kind and honorable woman, with a laid back, easy going attitude.
As a very wealthy mercenary, she does not need to work, but she simply does it for the thrill of it, she acts on her instinct and intuition, and enjoys the rush of adrenaline in battle, but this does not mean an opponent should feel at ease fighting her, as someone with a righteous bounty on their head will be fought ruthlessly.
Background:
As a young girl living in a small village on the edge of the great shumera desert Revy was the daughter of two well known wizards, although to some this might seem like a blessing, it was anything but that, her parents used her in an experiment trying to bind a human with extensive amounts of raw magical energy to increase her power, though succesful, the process was one of unimaginable pain, as well as changing her physical appearance, her golden eyes turned a piercing blue colour, and her arm formed crimson markings the form of arrows pointing upward, in the years after, she was forced into daily training, both phyiscally and mentally, to further develop the magical abilities she now had.
At the age of 15, she could no longer handle the way of life she now had, she sneaked into her parents room one night, and killed them both by blasting a huge amount of arcane energy into the bodies of both of them.
Taking the gold and best gear travel she could find, she abandoned her village and old life, after months of hopping through towns she passed through, she had little money left and had to somehow get more, ironically deciding to use what her parent's bestowed upon her, she used her training to become a mercenary, fulfilling lots of small contracts within a short time, she quickly gathered fame and money, something that went on and on for a while, until she was at the top of the ladder at the age of 23, being one of the highest end swords for hire, being wealthy as she now was, she sought a master smith and had him forge a rapier of the finest elven steel, tempered until it was one of the finest swords to take a look at, as well as finding a tailor to outfit her with clothes both comfortable, strong and light, the rest of the money she spent on either research into alchemy or magic, or drinking in the bar while brawling with the local villagers.
Now well over a hundred years old, Revy has aged only slightly physically, but mentally she is a mind full of knowledge and experience, and a well known name across the lands.
This concludes Revy's introduction for any roleplay she will be in!