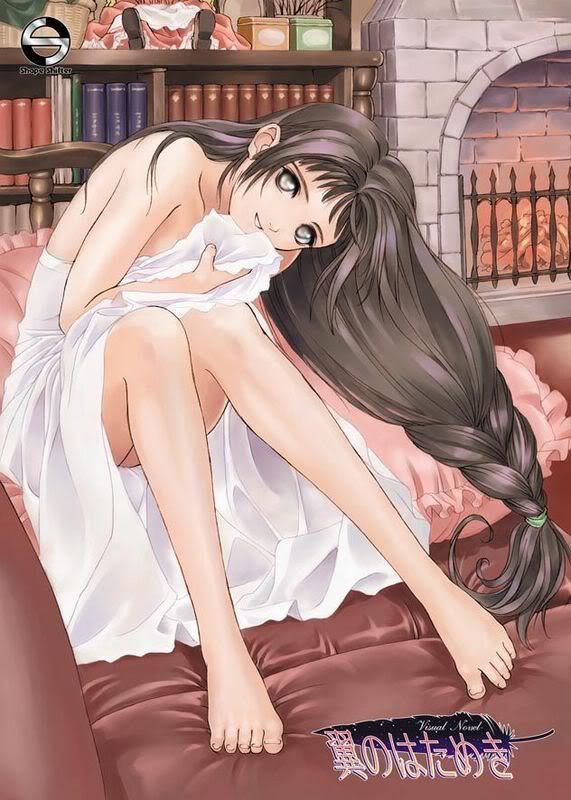 Lani sat in the back of the car, her small, delicate hands plucking at the skirt of the fine dress she wore. She was nervous, and rightfully so. She had been raised as a slave, learning to please the man that would buy her when she reached the proper age. All the years of unending lessons. Dancing, cooking, sewing, cleaning, chess, all of the hours reading and learning. And the art of pleasuring. And finally the day had come where she was of age, and bought. The trainers barely gave the young slave, now eighteen, any information about her Master. Nothing except that she must please him beyond his expectations.
Lani was dressed in a beautiful silk gown, pure white like freshly fallen snow. It was short enough to be alluring, but without being skimpy. It clung to her ample curves, loosely. It was an elegant dress, and accented her body beautifully. Her light brown hair was braided intricately, and the braid hung down to her waist. Her large stormy gray eyes had been accented with some very light eyeliner, and a small application of mascara to make her long dark lashes look a little more full, making her eyes stand out. Her plump lips only had a small bit of gloss, their natural dark red needing no accenting. Her skin was fair, and light, almost unnoticeable freckles, splattered across her cheeks and nose.
Lani's heart nearly stopped when the car stopped. Her door opened and the bright sunlight made her wince. She stepped out of the black car, stepping carefully in the satin slippers, as to not dirty them. She looked up, and saw a massive skyscraper before her. She looked around in complete confusion. This was to be her new home?
Her trainer laughed and explained that her Master was a business tycoon, one of the most powerful in the world, and made his home in the tower as to be able to work at any time he needed. She nodded, understanding now. Her nervousness grew, realizing she had to be perfect for him to be able to stay.
Lani was led inside the tower, and into an elevator. She got inside, and her trainer hit the 54th floor button out of the 75. He stepped out and smiled reassuringly at her. "You will do fine Lani. He will love his new pet." She smiled back weakly at him, and the doors shut. The elevator started to rise, and her heart beat faster. Finally the doors opened, and the long empty hallway was brightly lit. She stepped out of the elevator, and looked around. The hallway was long and spacious. There was a door at the other end of it. Lani walked to it, and finally knocked on the door before it swung open.