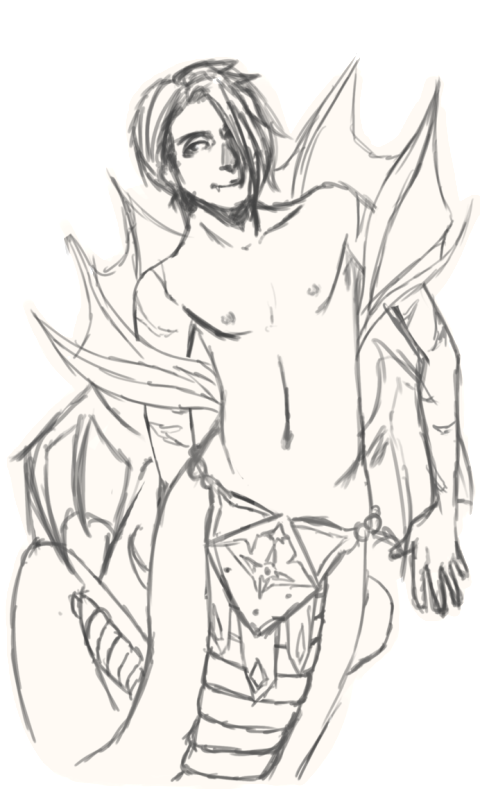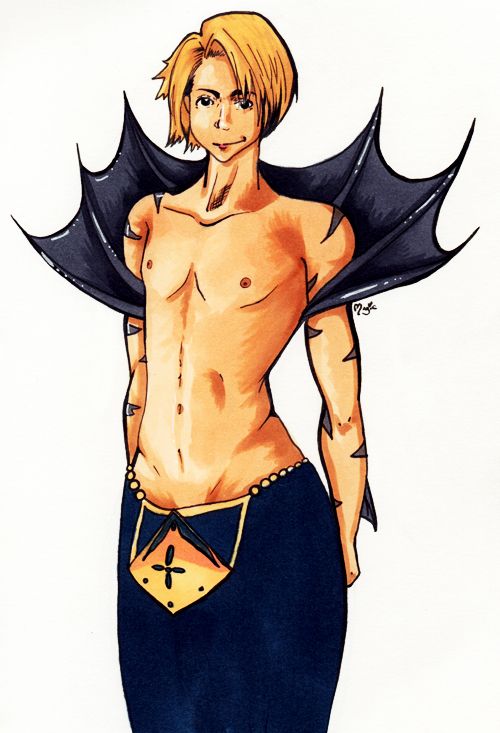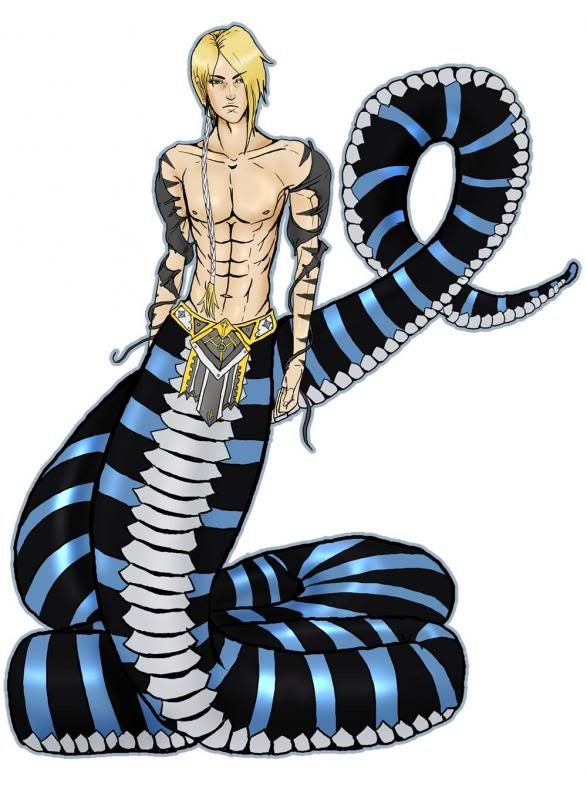 Name:

Asmit


Race:

Naga


Age:

Looks to be in early twenties
~Appearance:
Gallery Here.
Body type:
Strong, lean build. Not bulky, but has well-defined muscle tone. So, not a muscle man, but not skin and bones.
Athletic upper body of a human meets the strong coils of a snake's tail end for the lower half of his body. His tail is meant to be that of a banded sea snake, like
this
. The blue scales are glossy and are mostly varying shades of blue, with other colors from the cool family mixed in, like blue-green or purple. The black scales have tints of blue/purple in the sun. The belly of the tail is lighter than the rest.
Jewelry:
Three gold hoops in the cartilage of his left ear; one emerald stone earring in either the form of a stud or short dangly beaded kind of earring with the emerald being a tear-drop stone at the end of it in his right ear.
Markings:
Black stripes across both of his arms.
Eyes:
Snake
eyes
that are jade green
Hair:
He has blonde hair—pure and pale, silvery blonde. If he's using his magic, teal stripes will appear in the hair framing his face. The color of the teal depends on how much magic he's using, so the teal can range from very pale to super dark.
He typically has it pulled back into a white-banded ponytail with fringes framing his face a bit, like the style in
this tektek
of him.
Otherwise, he'll leave his hair down loose, and it'll fall to just past his hips with just a slight wave. The ends are choppy.
~Background
Personality:
He's very stand-offish. He can be seductive and coy when he thinks it's of use, but otherwise he's rather reserved and doesn't commonly smile unless it's contemptuous or a smirk. He's like a lone-wolf, but can be highly protective if he's bound to someone through a summoning and thus has to protect them, or once he has taken a liking to someone, which is rare, but can happen.
History:
Varies. He isn't totally developed for biography just yet.
Typically, I see him in roleplays in which he's been trapped by some kind of spell. Typically, the spell has him trapped in a pond/lake in the form of an unusual fish, or miniature water dragon or something; he was trapped in that form by a priest/monk/demon hunter because he can't use much of his magic to escape when stuck in it, but he's also next to impossible to kill as his dragon/fish form. He's at his most powerful in his natural Naga form, but can also have a fully human form that is still pretty powerful.
Anyway, he was locked away for harassing and killing humans; the monk who managed to trick and trap him would probably have only trapped someone who wreaked as much chaos as Asmit does because he couldn't manage to kill the Naga. So, the monk would do the next best thing and lock Asmit away, never to escape unless someone set him free somehow, which would mean that someone would have to know about Asmit and how to release him and control him to some extent.