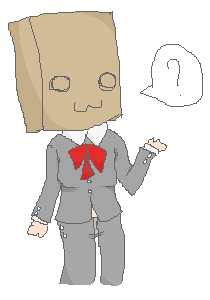 I'm not planning to sleep yet. But I need to. It seems that I've been attached to my avi
and
to this online game.
SIGGHHHSS
I doubt the classes will be suspended again tomorrow though. So pop goes my dreams.
What just kinda saddens me is that only a few are asians and most are... yep. And now I'm sitting here, viewing the forums and finding out a good topic to look at. If I can't, then I suppose I should read the books I borrowed from the library and play games before I sleep.
I hope I can have more time to watch Acchi Kocchi during my weekend.