~Profile~
Name: Damien Hargreaves
Nick name: D.
Age: 17
Height: 6'0
Sex: make
Weapon: Shadow manipulation allows him to create an assortment of weaponry.
Hero or darkness: Reluctant hero
Bio: Damien has a clouded past, being that he was passed from hand to hand like nothing more then a possession for the majority of his life has made him bitter and angry. Even though his mind swells with hatred it is only focused towards the evils in mans hearts, their evil deeds and the destruction of innocence. He reluctantly feels drawn to stick up for the little guy, by fighting for those who can not protect themselves. His personality is withdrawn and mostly antisocial, he has a difficult time relating with others especially with his true appearance making him look like a filthy demon. He has an affinity for the pan flute and can often be found playing it in solidarity as to calm the rage within his mind.
Relationship:
Skills: Shadow manipulation, hyper senses, inhuman strength, speed, endurance, low light vision, low level illusion ability used mostly for appearance change and musically gifted with the pan flute. He is also quite adept at an unorthodox style of street/martial arts fighting resembling a mixture of tai chi, muay thai, judo, and wing chun.
Magic:
Anime Pic::
True form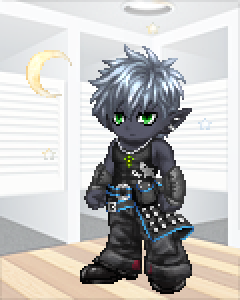 Illusion based form to fit in with society.