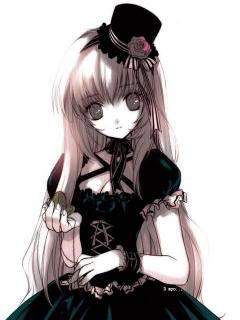 Eloa Jaxon
Name Meaning: An angel born from a tear from Jesus.
Gender: Female
Eyes: Milk white.
Hair: Dark brown
Age: 29
Born: October 30 1983
Height: 4'5
Blind
Physical Description: Eloa is a small petite woman, with mostly a dancers body.
Usual wardrobe: She always wears black, on the account that she is blind. So she figures she can never go wrong with black on black.
Behavior/Personality: She is kind to those she trusts. She can read a person's intentions by mapping their face. She has an unusual connection to the dead, she can speak to them, She can also play the piano better then a pro.
She was 17 when she was at a wedding when the deck caved in, she among others fell, she was hit in her eyes by splintered wood. That is how she became blind. Her cataracts are called traumatic cataracts
Fears: Falling, getting lost, being alone when in trouble, being completely alone
Hates dogs
Is lost without her walking stick, it brings her comfort. If she loses it she goes into hysterics, crying, screaming, lashing out at things.
She doesn't speak to her parents anymore because they put her in a mental hospital, she told them about the ghost. the only person who believed her was a good friend, who gave her the walking stick