.::Wrestler Name::.
The Number Three
.::Nickname::.
The Demon
Mr. T.N.T.
Demon of the Ring
Ringmaster
.::Gender::.
Male
.::Sexuality::.
Strait
.::Height::.
6'5
.::Weight::.
260lb.
.::Ethnicity::.
"Side Show"
.::Style::.
Technical, Catch as Can, Bruiser, and Hardcore
.::Alignment::.
Baby Face = Ringmaster/Side Show
Brutal Face = Demonic Endurance
Cerebral Heel = Incubus
.::Gimmick::.
Three is a side show freak turned wrestler. His apperance and mystic nature has coined him the demon of the ring, a title he's embraced... Three is now the G-fed's only real demon!
.::Entrance Music::.
"
TNT
" -
AC/DC
-Face
"
All American Nightmare
" -
Hinder
-Face/Incubus
.::Born::.
Seattle, Washington
.::Commonly Used Moves::.
[]Strikes[]
|-Trading Blows-|
|-Body Blows-|
|-Elbow Drop-|
|-Knee Strike-|
|-Drop Kick-|
[]Grapples[]
|-Suplex Variations-|
|-Back Breakers-|
|-Neck Breakers-|
|-DDT Variations-|
|-Arm Drag-|
[]Signatures[]
|-Blackout-|
|-Pop-up Double Leg Spinebuster-|
[]Finishers[]
|-Death Trap-|
|-Greatest Slam On Earth-|
|-GSOE II-|
[]Special Finisher[]
|-Demons Breath-|
.::Image::.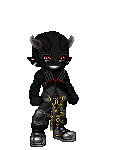 [[Entrance Attire]][][][][][[Wrestling Attire]][][][][][[Backstage Attire]]
.::Tag Teams::.
Seventh Circle (The Number Three & Boxer Anarchy)
Three Seasons (The Number Three & Brantley Summers)
[EWA Unified Tag Team Champions]
.::Stables::.
.::Championships::.
[]EWA[]
EWA World Championship [
8/5/12
-
11/28/12
(Vacated)]
EWA Unified Tag Team Champion [
11/27/12
-]
FWD Season 3 Winner [6/8/12]
[]DHW[]
Blaze Championship [Inaugural Champion
9/23/11
-11/21/11 (Nuke Fusion)]
Blaze Championship [
1/31/12
-06/03/12 (Zarel Damone)]
[]WWE:E[]
Asylum Championship [
3/19/2012
-
12/26/12
(Salem Croft)]
[]WGUT[]
2012 WGUT Champion [
2/19/2012
]
.::Biography::.
The Number Three worked as a side show illusionist. He had his entire body tattooed black, and has implants in the sides of his skull with short 3" dull horns. He worked out with the strong-men in his troupe, and fought a trained wrestling gorilla; and being part of a traveling circus group, he made his rounds through various indy-wrestling circuits. It was here he was discovered, for a large wrestler he was surprisingly agile. With his illusionist gimmick he drew in huge crowds and would sell out seats at most events. Due to his life in the circus Three has a skill set beyond the common wrestler, among them include; acrobatics, tight rope, illusion, escape, body piercing, side show gimmicks, and fire breathing. Three has and continues to use these skills to gain an upper hand in matches.
.::Other Roles::.
EWA: [
FWD season 4 host
]
WWE:E: [
Destiny General Manager
]
.::Relationships::.
Son: Mordred
?
.::Skill-Rate::.
[]95%[]
.::Highlight Reels::.
|-Jarel Damone vs Three-|
|-Three vs Jamie Bader-|
|-Three vs Jamie Bader/II-|
|-Three vs Phoenixfire-|
|-Three vs Jack Arson-|