*Dusts off the Gaming Corner*
So today I was bored and I was playing Fire Emblem and then some Yggdra Union on the way to school I suddenly though: "Hey... I should compare these two."
So I am. Of course since Yggdra Union isn't a series I'll be comparing it to Fire Emblem as a whole. And I've only played Fire Emblem, Sacred Stones, and Path of Radiance so I can only use those 3 to compare it to (Although for music I can compared Radiant Dawn as well). So... Yeah!
Story
Hmmmm... This is kind of a tough one. Both games have some good storylines and are both intriguing enough to keep you wanting to play... But I think Fire Emblem would get the cake here. Yggdra Union's storyline is kind of... 'normal' in the beginning (A princess fighting to take back her kingdom IS a bit cliche...) and doesn't get nice until near the end. Fire Emblem has always had pretty good storylines with a good twist or two thrown in.
Characters
This one is just kind of too easy. Fire Emblem wins this hands down. Yggdra Union has a smaller cast of characters but they all suffer from lack of development. Fire Emblem has a large cast but the Support conversations give you a chance to learn more about their pasts or goals. Yggdra Union never touches on over 99% of the cast and you only ever learn a lot about say Yggdra. You never know why Milanor is so powerful (He's an illiterate thief who comes and annihilates an elite army of Bronquian soldiers?), why Russel is a reowned swordmaster, why Pamela is obsessed with Undines so much, etc. etc.
Difficulty
This is another tough one. But I have to say Yggdra Union is tougher. Of the Fire Emblems I played really only Fire Emblem was any kind of difficult, Sacred Stones and PoR were just easy. Yggdra Union though can be murderously difficult. You can't "heal" during battle (In the sense you can't recover Morale except for some very few equips), you have a limited number of cards to finish a battle so you're always racing against the clock, and some of the battlefields are just so unfair.
Battle
I myself prefer Yggdra Union in this case. Fire Emblem's battles are decided by our fickle friends percents. But in Yggdra Union you can pull off a victory unless you get majorly screwed (i.e. critical hit).
Music
Yggdra Union. Really. Fire Emblem has nice music and all but Yggdra Union has a
gorgeous
soundtrack. Even the GBA music totally blows away any of my favorite songs of Fire Emblem (Together we Ride, Lights in the Dark, etc.). And have you heard the MP3 quality Yggdra Union music? Totally awesome. Each character getting their own personal battle music is just awesome. (And Yggdra Union's music really 'sticks'. You know when you hear Gulcasa's theme music you're in for a murderously hard battle).
'Reality'
This is one Yggdra Union has to win hands down again. Fire Emblem is about individual characters and that somehow a 'grand massive army' (like that of Grados) is only a few hundred units best? And that you're small group of 10 can somehow go and wipe out a entire battlion of like 50+ troops on their own? Or in Ephraim's case you can march your small band of soldiers into the heart of a empire and do it with, again, like 10 guys?
Yggdra Union's battles only show like... 5 or 3 units but each 'unit' is meant to represent an entire army. Plus a 'turn' in Fire Emblem is vague. Is it a hour? Minutes? Days? But a 'turn' in Yggdra Union is a third of the day so every 3 turns = 1 day. So some of the battles last days indeed.
xd
Memorable Boss
Ah... I'm conflicted on this one. The Dragon was a totally awesome boss and all but... Gulcasa was also pretty awesome. I'll call this one a tie.
SPOILERS
Plus in Yggdra Union you get to fight a Angel. A uberly powerful Angel that is a insanely annoying fight. Plus in the PSP remake you get to fight the adorable No.367. <3

END SPOILERS
Art
Yggdra Union. Game has gorgeous art that is superior to the sprites and mugs used in Fire Emblem I'll say. Don't believe me?
IS THAT NOT A AWESOME CARD!?
domokun
...
Ok so yeah I'm done now.
rofl
I ran out of ideas. If you have anymore I guess I can offer my opinion...
And in closing...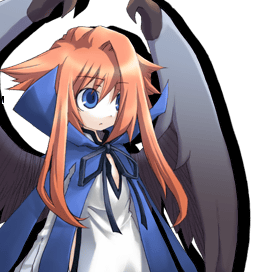 No.367 says "hi". <3