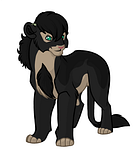 A pack of about six wild dogs had managed to catch themselves an impala. Normally, this would have been an excellent thing for them, as impalas were plenty big to feed six little dogs.

Unfortunately, it was also an ideal meal for Drogon, who just so happened to be nearby. Tall for his age, the quickly growing lion had an appetite to be reckoned with. He had no qualms about taking food from a few pups, as it were. It was done easily, even a young male lion was still much stronger than any wild dog, and the group wasn't large enough to really threaten him. Once that was dealt with, Drogon was content to settle down with his meal. Wild dogs ate fast, but most of it was still left for him.

After eating a decent bit of it and feeling full enough for now, Drogon was simply lying beside what was left of the kill. By now there were a few vultures and crows around, but he was in no hurry to leave them scraps.