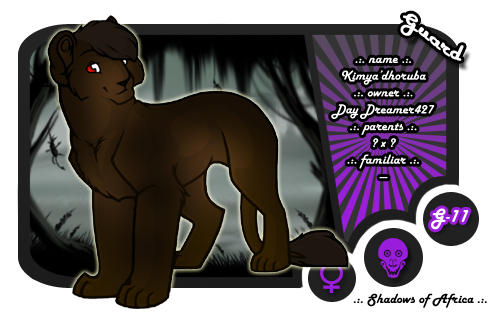 The female wondered around the prides' borders watching dusk fall over the sky. She enjoyed the exploring and the solitude was a mystical and majestic thing. It gave her a chance to get lost in her thoughts. She always had something on her mind. Currently she was thinking about her task at hand, one of her fellow guards had asked her to partake in helping a gatherer. She wasn't fond of helping someone she hadn't me but she agreed none-the-less.

She looked around for the gatherer she was supposed to help. She sighed trying to find the lion. Finally she saw him, or who she hoped was him. She approached him , she never really helped anyone out other then a fellow guard.

"Are you the gatherer that needed assistance?"

She asked curiously, hoping it was but she couldnt be sure until it was confirmed.