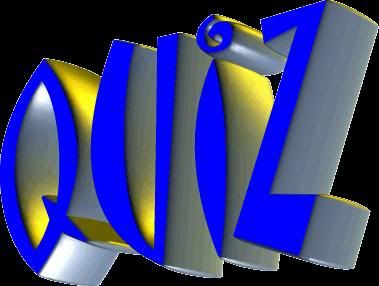 THIS IS A CONTEST LIKE NONE OTHER. DO YOU HAVE WHAT IT TAKES TO DO THIS QUIZ? IF YOU DO, THEN YOU NEED TO ANSWER ALL QUESTIONS AND ANSWER EACH ONE IN A SEPARATE POST. IF YOU SKIP ANY QUESTIONS OR ANSWER 2 QUESTIONS IN ONE POST YOU WILL BE DISQUALIFIED. THE REWARDS FOR COMPLETING THIS IS WELL WORTH YOUR TIME. NOT ONLY WILL YOU GET GOLD FOR EACH POST FROM GAIA FOR POSTING BUT I HAVE GOLD PRIZES FOR THE FIRST THREE TO FINISH THIS QUIZ. I WILL BE CHECKING TO MAKE SURE NO QUESTIONS WERE MISSED, SO BE CAREFUL. YOU CAN COPY AND PASTE EACH QUESTION IN YOUR POST IF YOU LIKE SO YOU ALWAYS KNOW WHICH QUESTION YOU ARE ON. SINCE THE QUIZ IS LONG I HAVE TO POST THE QUESTIONS IN SECTIONS. THERE IS A TOTAL OF 1120 QUESTIONS....GOOD LUCK!!



FIRST PLACE: 30,000 GOLD

......

Winner detective lei-chan09




SECOND PLACE: 20,000 GOLD

...

Winner Princess_Emmaline




THIRD PLACE: 10,000 GOLD

...

Winner Devan Alexander





NOTE:

I'm sorry if I missed any numbers in numbering the questions..With that many questions it's hard to keep track. I know I missed a lot but look at the good side of it..It's not as long of a quiz..



The following question numbers were missed in this quiz:
41, 71, 111, 141, 205, 475, 477, 555, 1076, 1077..