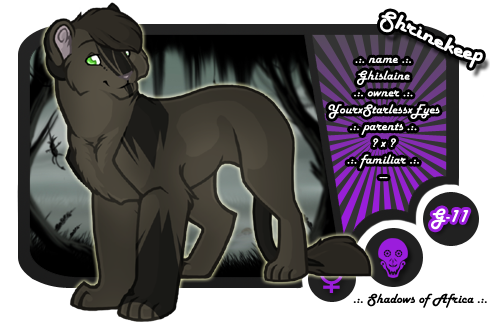 Ghislaine sighed as she settled down between the roots of a tree, tail flicking back and forth idly as she allowed her eyes to slit almost lazily, at least for her. She was taking some time for herself, as she had been more apt to do lately. While she certainly was not to other people's levels of "fun" it seems she had unwound just the slightest bit now. Perhaps she had grown up a little.

Whatever the reason, Ghislaine looked out across the lands of her pride. She was farther away from its center right now, having wanted peace from the other members and, for once, her beloved Hounfors. She wasn't even meditating on the Loa or contemplating anything else. She was simply...being, enjoying the quiet and the surrounding sense of nothingness. She was, one might say,

enjoying

herself. Not that she wouldn't have minded some other person share solitude with. As long as they were quiet, at least. Not like that would, happen, with her luck and how often she seemed to find herself with someone like Fon Youn. Ah well, best to appreciate the simple things in this moment. Like the fact that said lion wasn't currently around.