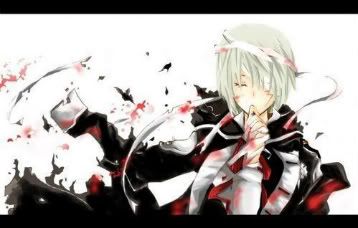 ~ Cell Mate: ~
~
A
soft cold breeze blew threw the cold iron bars leading into a cell. A tall teenager was pushed into the cell, though he was growling as if he were a dog. He turned back about to punch a guard before the door closed but stopped midway, his fist by the guards face, inches away. The young man sighed, the white wolf ears on his head aimed down like a saddened dog. Akuma, the young Deadman straightened up and grabbed a bar with his right hand, his left reaching through the bars to grab the guard.
A
kuma grabbed the guards clothes and pulled him back, making him brush up against the bars.

"Do me a favor will ya? Can you tell the director, prompter, to give me a psycho, murderous, girl in my cell? I like the risk of someone killing me over night..."

Akuma admitted with a sly smirk on his face. Akuma released the guard before he turned to slap his hand off, and avoided it. The guard sighed and nodded. The guard walked off, carrying one cast card, which Akuma gave to bribe him. Akuma turned around, letting go of the bar. Akuma sat on the bottom bunk bed, letting the sleeves of his black, bloodied, torn up jacket fall to the bed's satin sheets, yet another bribe.
~