༺༔༓༔༶༔Taken ༔༶༔༓༔༻
Name:

Krystina
Gender:

female
Age

: is 17
Sexuality:

straight
Species:

vampire(newly turned)
Eye Color:

bright blue
Height:

5' 4"
Body Build:

skinny, curved, tall,
Hair Color/Length/Style:

long and blonde with a blue streak running down one side
Other Appearances (Tail/Ears/Tattoos):

has a tiger tattoo on her right hip
Personality:

kind and gentle, she doesn't really get mad about most things.
Bio:

sickly from birth, Krystina has always had to depend on others. When she told her parents she was going to move out, they requested that she at the very least buy a slave to help her settle in. Seeing it as the only way out of her parents stopping her, Krystina bought herself a slave. Not realizing he was a vampire; she was bit and turned. After turning she was bed ridden, sick with a fever, and she was unable to stop the vampire slave from leaving. She is now looking for a new slave, hopefully one that can not only help her with her illness, but also help her cope with being a newly turned vampire.
Other:

She has a very weak immune system and is unable to protect herself from most diseases. She is often bed ridden with a fever. While she is ill, she tends to spend her time playing music on her acoustic guitar, it's mainly country but she does have an electric, someplace in her house… she just can't find the right box that it's in….
Slave:

shadowheart, sheik, maso, lucius, hades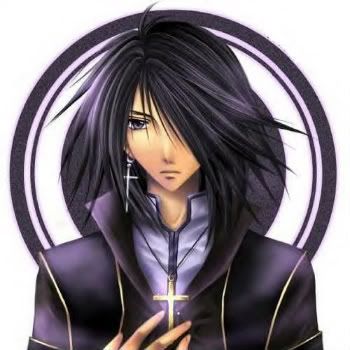 Name:
Luka Gomez
Height:
6' 3"
Age:
19
Eye color:
ocean blue
Hair color:
black
Bio:
Lives with his little sister, his parents having died in a car accident. doesn't really say that much now, almost only speaks to Gabby, his younger sister.
Personality:
quiet and seemingly cold, can be kind depending on the person.
Has Slaves:
Preferred Collars:
doesn't really care but maybe something different
Preferred Charms:
doesn't really care but maybe something different


Name: Lynx
Gender: female
Age: supposedly 21 but she's much older.
Sexuality: not sure
Species: Witch
Eye Color: black to dark teal
Height: 5' 4"
Body Build: skinny, curved, tall,
Hair Color/Length/Style: long, black, typically kept back with one of her hairclips.
Other Appearances (Tail/Ears/Tattoos): has this tattoo on her back.
Personality: upbeat and happy, she tries her best to keep things exciting and doesn't want others to think things are boring but if you piss her off watch out 'cause this little witch has a habit of biting back.
Bio: not much to say other than she was born into a simple family of humans and when she started to show magical potential they freaked and sent her away to a place where her powers could be used for good. When she was old enough to venture out on her own she got a house of her own. Since most of her magic is based on the healing arts, she's looking for a slave that can teach her to fight.
Other: she likes playing violin, cello, and piano and also has a secret that she keeps with her at all times…. >.>
Slave: Kochava