This Soquili could go with or without plots.





Soquili's Name:

Mola Mola


Image of Soquili: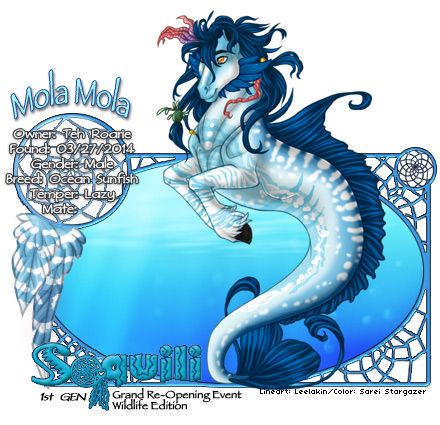 If your Soquili has grown to adulthood/been tagged within the last 2 months, please link to the appropriate Soq Arrivals post:

n/a


Describe your soq's personality/interests:

My gorgeous, fun loving and more than a little too much laid back sunfish. Spends his days swimming and avoiding danger. He likes to find beautiful places to sit and watch. Much more of watcher than a talker, but he is friendly and likes others.


What is your soq looking for in a partner?

I'm pretty sure Mola is mostly uninterested in sex or species and more interested in personality and compatibility. I know he has lots of love, he's just so laid back and lazy that he could probably give it to just about anyone.


Any specific limitations/requirements?:

Aquatics plz. Mer. Kelpi, Nixie or Seathi.


Fling or Lifemate?:

Either or Lovemate or whatever.


Looking for a plot? What kinds? (Rped or Background?)

I like I RP but I also see the usefulness of Background. I will jump right in if he's perfect for something you need.


Breeding slots left:

4/4


How do you want others to contact you?:

PM or AIM @ aroarinthedark or Skype @ teh-roarie


How long should this entry be left up/stay valid for?:

3 months

*It should be noted that I have only one pair to try for in breeding atm. So someone paired with him could go into slots almost immediately.