This Soquili is looking for some sort of plot.




Mare's Name:

Wisp


Image of Soquili: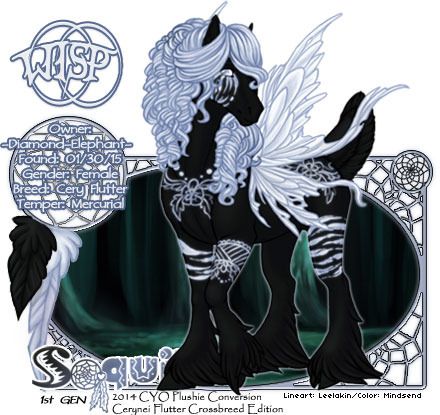 If your Soquili has grown to adulthood/been tagged within the last 2 months, please link to the appropriate Soq Arrivals post:

N/A


Describe your soq's personality/interests:


Wisp is a nocturnal creature by nature with mischievous tendencies (in particular leading travelers astray and into trouble much like her namesake), not that there is any maliciousness in her actions. Or at least that's what she says. Quiet and observant, the small soquili has seen much (some quite odd, others not so much) during her life in the forest, thus not much disturbs or surprises her. In truth she's grown quite fond of the weird and wonderful. After all, it is often at night that the weird and wonderful comes out to play, and so does Wisp. Over all Wisp is a fairly pleasant individual, although prone to moods of a mercurial nature. One moment she's laughing and enjoying your company, the next she's utterly bored and would much rather be somewhere else.


What is your soq looking for in a stallion?


Someone who, due to Wisp's mercurial nature, would be able to keep her interest and who wouldn't mind her mischievousness. Someone who also either shares or would not mind her preference for being nocturnal is also a bonus, though not entirely necessary.


Any specific limitations/requirements?:

No purely evil soq, or at least none that would treat her badly.


Fling or Lifemate?:

Either, not 100% sure exactly what I'd like for Wisp.


Looking for a plot? What kinds? (Rped or Background?)

Heavy BG plotting with a bit of rp. I'm afraid I just don't really have a huge amount of time for rp right now.


Breeding slots left:

4/4


How do you want others to contact you?:

PM, please.


How long should this entry be left up/stay valid for?:

3 months.