This Soquili is looking for some sort of plot.






Mare's Name:

Lady Saga Snaerblod



Image of Soquili: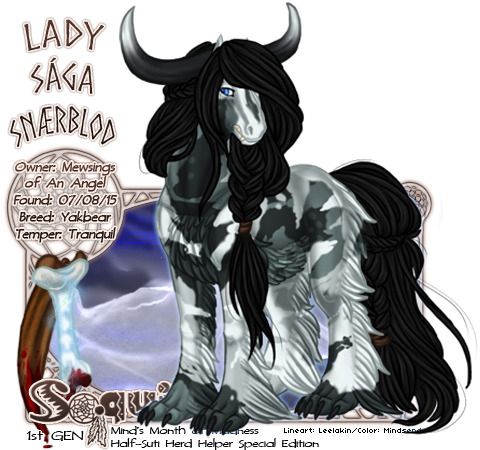 If your Soquili has grown to adulthood/been tagged within the last 2 months, please link to the appropriate Soq Arrivals post:




Describe your soq's personality/interests:


Saga is one who is as gentle and tranquil as a spring breeze.
Unlike her sisters, she has no interest in battling or bloodshed.
She avoids conflict like the plague.
Instead, she is one who has a diplomatic outlook and tries to calm things down by verbal means.
As the High Priestess of an entire Herd, she holds the lives of her Tribe above herself and considers each of them her family and equal to her, despite her status.
She loves to be around foals, and is not without trying to love on smaller Tribe members if they give her a reason.
She is easily amused, though her humor is not always all that funny - she tries!
You will never see Sága in battle, nor will she trouble herself in becoming angry - that's what Yrsa is for.


What is your soq looking for in a stallion?

While not really looking, it would be interesting to find someone who would sweep her up in the crazy bits of love she would never expect after her run-in with Erebus and him breaking her heart.


Any specific limitations/requirements?:

None. Paws or claws would be nice, but not required. No evil creatures though.


Fling or Lifemate?:

Either, dependent on plots.


Looking for a plot? What kinds? (Rped or Background?)

Either, but one or the other is necessary.


How do you want others to contact you?:

PM firstly, then AIM.


How long should this entry be left up/stay valid for?:

3 months.