

W

elcome To The Daffodil Movement 2010

-----------------------------

❧
This is a cancer awareness movement originally brought to Gaia in support of Long Vo (aka VO, art director and admin here on Gaia) whose father died from cancer April 9th, 2006.
Four of the old incarnations of TDM:
[We Care] (TDM 2006)
The Daffodil Movement 2007
The Daffodil Movement 2008
The Daffodil Movement 2009
The Daffodil Movement has been held every year since 2006. It runs through the entire month of April (except TDM 2008, which ran through the month of May) and it is the time when we strive for Gaiawide cancer awareness. Traditionally during the event, users equip a daffodil bouquet on their avi to show support. The yellow daffodil is a symbol of renewal and hope, chosen by the American Cancer Society as an icon for the fight against cancer.

One of the most unique things about TDM is that we very much emphasize

diverse and intelligent

awareness in order to make people see just how widespread and serious this disease is. We stress that awareness is more than just knowing, it's understanding. We do this with different cancer teams that compete during the event as they talk and learn more about the type they're representing.

This year we have a new, streamlined look for the main thread, so hopefully it will be easier to navigate. Feel free to post your suggestions and comments.



﹢﹢What You Can Do﹢﹢



► Equip a daffodil bouquet on your avi through the month of April.
► Add a daffodil or ribbon to your signature
► Submit an entry for the Yellow Wall
► Participate in TDM's events and contests
► Want to donate to our cause? You can do that by sending a

labeled

trade to the mule. You can give gold for the contests, team color items for people to wear, or daffodil bouquets for us to give away. (Please do NOT send loose daffodils; it is much more costly and less efficient to make hundreds of bouquets from scratch, than to just buy them off the marketplace or have them donated to us.)
► If you need a bouquet to wear, just send a trade to us and we'll give you one free of charge. :3 Be sure to label your trade or it will be canceled.
►If you are unclear about something, I suggest you READ the front page of this thread. There's a good chance it will tell you how to do things.



One great way you can help the Movement

is by donating items in team colors. This will be a sort of thrifty borrow-out system. This has to go through the Team Captains. Either the Captain sees someone that they think needs/deserves help, or the person wants help and asks the Captain if they can borrow some items.

Basically, it goes like this: the Captain says "Hey Blaize/Moonie, so-and-so needs items to wear" and one of us will send a trade to that person with items of the right color. And our rule is, you can either keep these items or give them back at the end of the Movement so that we can help people in future years- it doesn't matter which. Either way, donations from those that want to help in some other way besides giving gold will be a big help.



﹢﹢Other Stuff﹢﹢



MoonDwarf is TDM's second-in-command. If Blaize is not available, you can come to her about any questions or problems, or if you need someone to log on to the mule.
iCrickle is our advertising manager. Come to her if you have any ideas about promoting TDM, or if you know of someone doing something TDM-related in their own thread. Last year we had pixel shops releasing special limited-edition daffodil art, things like that.
----------------------------------------------------------------------------------------------------------------------------------------------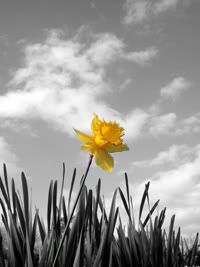 "Daffodils" (1804)

I wander'd lonely as a cloud
That floats on high o'er vales and hills,
When all at once I saw a crowd,
A host, of golden daffodils;
Beside the lake, beneath the trees,
Fluttering and dancing in the breeze.
Continuous as the stars that shine
And twinkle on the Milky Way,
They stretch'd in never-ending line
Along the margin of a bay:
Ten thousand saw I at a glance,
Tossing their heads in sprightly dance.
The waves beside them danced; but they
Out-did the sparkling waves in glee:
A poet could not but be gay,
In such a jocun'd company:
I gazed -- and gazed -- but little thought
What wealth the show to me had brought:
For oft, when on my couch I lie
In vacant or in pensive mood,
They flash upon that inward eye
Which is the bliss of solitude;
And then my heart with pleasure fills,
And dances with the daffodils.

By William Wordsworth (1770-1850)