THE
Christmas
Charity
NSTG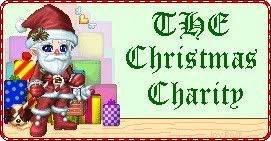 To get a donation from me:

1. POST your request.
2. START a trade with me.
3. Change the TITLE of the trade to include the word "PLEASE."
4. ADD any items you don't want.
If you aren't sure how to follow the above steps, please visit How to start a Trade with Santa".
I will add your 100,000g donation, confirm and add your name to the Nice List in my

main thread

!
It would be very NICE if you came back after confirming our trade to say thanks.




* Nice Boys and Girls give me

sweet nothings!

On Gaia that means some little thing - you can include anything you don't want (flowers, fish, cheap garments, Daily Chance prizes, whatever). I love "sweet nothings" and I thank you for them!

* Nice Girls and Boys ask politely, using words like

Please

and

Thank You.

If you forget to add "Please" to the trade title, I may think it is a donation and simply accept it. All donations are always appreciated!

* Nice Boys and Girls follow Gaia

TOS

and

Rules

.

* Nice Girls and Boys do

NOT

PM Santa or his helpers asking for donations, because so many on Gaia find that very rude. Stretching the page is also considered rude because it makes it hard to read all the other posts.

* Nice Boys and Girls

begin

the trade with the word "Please" already in the title and with "sweet nothings" already included. If you don't confirm the trade within a week, it may be canceled.

* Nice Girls and Boys only get a donation from me once a year. I am the only person funding this charity other than occasional donations, so that is all I can give to each of you. Also, while I enjoy hearing about your quests, the only donations I give are pure gold to help you on your way. Good luck!

About

The Naughty List

: You didn't really believe that stuff about coal, did you? All Gaians are Nice in my book, but they only get on the Nice List below if they give me sweet nothings, say "Please" in the title of our trade, and get a donation from me.



Santa's Helpers

are Donators who have given generously and are SO much MORE than Nice! They are LOVED and Appreciated!

Elves

are creative and artistic, so you'll find a list of elves who have given me artwork and/or poetry in my

main thread

. Thank you, Treasured Elves!



Thread Navigation:
Post 1: Introduction and How to Get on Santa's Nice List
Post 2: Santa's Workshop (Banners and Links)
Post 3: Hints for Earning Gaia Gold
Post 4: Reserved for future use.