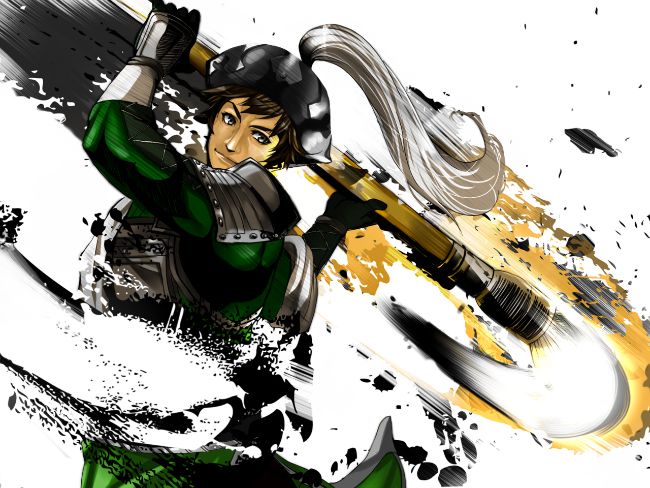 xxxxx
H
ideyoshi,
H
okage
▬▬▬▬▬▬▬▬▬▬▬▬▬▬▬▬▬▬▬▬▬▬▬▬▬▬▬▬▬▬▬▬▬▬▬▬▬▬▬▬
•
•
•


Sat at his desk bored, Hideyoshi could only stare blankly at the brush he was twiddling at between his fingers. To many others the situation he was in would probably seem a little bit surreal but in his mind; he was just paying back his debts and for someone like the Hokage that was always a big concern. A person always needed to pay back their debts in his eyes and so, here he was sitting at his desk; his hand the only thing propping his head up via his cheek and nice neat rows of bamboo desks occupied by cute and cuddly little baby Pandas sat in front of them. Each of the lovely little wonders had a brush between the little toes of their paws and was writing or at least trying to write something in Japanese across the blank scrolls Hideyoshi had given them. As was mentioned before, anyone else would have thought this situation a little surreal but the ten little baby Pandas had become the norm to Hideyoshi ever since he'd made the summoning pact with Lord Patchi, the Panda Boss. In exchange for the assistance of the Divine Monochrome Grove; Hideyoshi had to offer his services in increasing the Groves' collective intelligence. He taught its youngest members and some of its oldest how to read and write in human languages, ever since Hideyoshi's tutelage; the Kuroite Clan had elevated there status in the animal Kingdom significantly. Whilst Hideyoshi with their assistance won many battles and eventually earned himself the title of Hokage.

He was indeed indebted to the tribe of wild Panda Bears but even so, there was nothing more boring than a classroom on such a beautiful day as this and some of the unruly members of the class seemed to agree with him. The cubs sat back in their chairs staring out of the window as Hideyoshi himself just stared into space. His secretary every once in a while came in to drop of small piles of papers for Hideyoshi to fill out but he simply ignored them. He didn't want to get into all the official stuff right now and if he did, he'd probably just get buried in it anyway. He watched the pile grow. The Pandas watched the pile grow and once it reached the height of their teachers head; Hideyoshi stood up and slammed his hands on the table.

"Alright, class dismissed!"

he yelled smiling towards the class of cubs

"See you next week, remember to practice your letters and have a great day in the sun."



The Pandas could only jump for joy as their teacher relayed the news and some of them disappeared taking their desk with them almost instantly, whilst some stayed behind to thank their teacher kindly. However, at the back of the class; one of the cubs still sat at their desk as if they were waiting for something. Knowing the female cub as slightly shy, the Hokage edged toward her quietly with his wheelie chair seeming to slide into her peripheral vision. She looked up and the goofy Hokage just smiled, causing her to look back down towards her scroll. Unwilling to let it go, Hideyoshi tapped her gently between the ears with a paintbrush before putting the end of the handle in his mouth.

"Something wrong Sakura-Chan?"


"No Sensei."


"Are you sure?"


"Completely sure Sensei."


"Then why are you still here?"

He looked around strangely as he said it, as if the fact she was still there with him seemed awkward, or better yet mystery.
"Because… Well… Ummm…"
Sakura-Chan's desk disappeared in a cloud of smoke, leaving her sitting neatly on the floor with her little black furred legs crossed. She twiddled her thumbs, or at least what could be construed as thumbs, for but a second before looking towards the Hokage with teary eyes. "Sensei, I don't think I'm doing very well…" Beginning to cry, the little Panda got up and used all four of her legs to quickly whip over to the Hokage and sit on his lap. She nuzzled up to him, still crying and Hideyoshi simply stroked her shiny lovely fur. You could hear her growl with a strange sort of excitement as she rubbing her face on the Hokage's clothes. Hideyoshi, unable to see the little girl, or panda girl, crying set about moving his chair back towards his desk and took up a sheet of paper.

"Hey Sakura," He said softly beginning to fold the paper neatly in one hand with little to no effort "Do you know why people are like paper cranes?"



The Panda sniffled, wiped her eyes and shook her head watching the Hokage's fingers as they worked a strange sort of magic with the paper between them.

"It's simple. Want to know how?"

The Panda nodded and Hideyoshi presented her with a paper crane, popping it on her cute little button black nose.

"You see, it's like this: People like Origami takes time, precision and patience to fold and by fold I mean to teach lessons to but if you are patient and precise and make the right folds; they can become real cool those people. You know?"

The panda took the crane from its nose and held it delicately between its paws. Whilst she surveyed it, Hideyoshi pulled on the crane's tail and its head began to peck at the air. But Hideyoshi was not done using his origami to cheer the little Panda up as she marvelled at the strange pecking mechanism that Hideyoshi had incorporated into the crane.

"Sometimes, with the right folds; those people may even become beautiful."

Faster than he had done the crane; Hideyoshi presented little Sakura with a rose and she giggled happily as he found a hair clip once used by his secretary and attached it to the paper rose and fixed it into the little panda girl's hair. He smiled, she smiled and the blues that had once darkened her day seemed to fade as she played with the crane more. "Thank you Sensei," she said "You've really helped me." Licking his face, the little Panda allowed Hideyoshi to set her down on the office floor and she politely curtseyed before she too disappeared in a plume of smoke leaving Hideyoshi alone to his thoughts.

Wheeling his chair back over to the window; he opened it to let some fresh air in and look out over the village. He'd probably be told of later for doing something so stupid. Opening windows often lieft him open to attack but to be honest, he just wanted to be outside. Around, not stuck in this office and alone. He was bored with the Panda class but even so, at least they were some form of company with no one around save stacks of paperwork it was hard to keep uup his famous sunny disposition. And then it came to him…

Climbing out the window, Hideyoshhi abandoned his desk and office to sit on the Kage's office roof with nothing more than a standard writers brush and his small art journal which he seemed to always have available in case he needed it. He opened up the journal, turned it on its side and began to sketch the landscape of Konoha he could see in front of him. It was nothing short of beautiful.

And right here, right now doodling on the rooftop; Hideyoshi was nothing but content.


•
•
•
▬▬▬▬▬▬▬▬▬▬▬▬▬▬▬▬▬▬▬▬▬▬▬▬▬▬▬▬▬▬▬▬▬▬▬▬▬▬▬▬
"
I fight for my friends, for they fight with me. I fight when there is no hope, just in case there is any. I fight for freedom, so that no one may take it from me. I am human and that is my greatest strength.
"