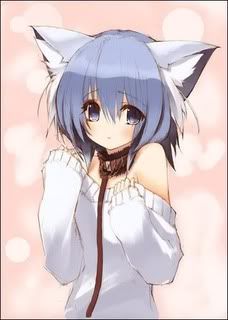 ~Chii Wonder~
"

It's almost too perfect, I meant to tell you about it the other day but I completely forgot! You like food and traveling, well that is seeing and trying new things. We're almost there, and no, no food yet."



Chii continued to pull Zats down the street, until she made it to a tiny shop crushed between two much bigger shops. As she opened the door a sweet scent of vanilla hit her nose clearly an air freshener to mask the awful smell of all the foreign people. It was a travel agency of sorts, but the job Chii had in mind for Zats was the information clerk, the last one got fired for sleeping on the job two days ago so there was an open spot ready for Zats. All Zats would have to do is tell people about the place they want to go and have conversations with people from different places. Very simple, and it paid well.



"Ok Zats so now all you have to do is land to job! I personally know the owner so I'll tell them how amazing you are and you'll do great!"



Chii walked up to a fat woman sitting behind a huge desk, she had a massive smile plastered on her face. Chii slammed her hand down onto the desk and ordered the woman get the owner, as the fat woman rolled off her chair and waddled over to a door and knocked on it calling for the owner. The owner was a tall slender woman with sharp facial features, she walked out of her office and marched towards Chii and Zats.
"Yes how may I help you two lovely ladies."
She sneered at the girls, Chii straightened out her back and looked the woman in the eye.



"I know you don't recognize me, Vivian, but my name is Alice, Alice Wonder. I have a different form today, I like to call this one Chii"



As soon as the woman knew it was Alice(Chii) she softened her look and had a joyful tone in her voice.
"Oh! Alice I remember you! No one will know its you like that. But I must admit it is a rather cute look!"
Chi blushed a bit as she let go of Zats' hand and did a little twirl.



"I absolutly love this form but I'm not here to show off my shapeshifting skills, I'm actually here looking for a job. Not for me but for my friend Zats."



Chii moved out of the way and pointed out Zats.
"Oh she looks very reliable and any friend of yours is welcome here. Do I honestly need to interview her or could you say shes pretty suited for the job?"
Chii clapped her hands together and grinned.



"I think she is pretty suited for this job, she might even be perfect for it!"



The owner just smiled at Zats and copied what Chii.
"Well if she wants the job she can have it! All she needs to do is get fitted for her uniform and she'll be all set. What do you say? Zats was it?"
Out.Of.Character: By the way the red is Vivian the Owner of the shop thing... You can speak for her if you need to, I just needed a filler so I thought up Vivan. Just letting you know... Sorry about not posting too!