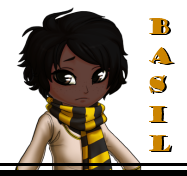 His strength ebbing, barely able to bend his legs in a crouch, the Prince of the Swans still managed to smile as the dragon reared up in front of him, her many-fanged smile wavering slightly as she saw the smile returned. "Why do you smile, boy?" she hissed. "The truth should have shattered your mind into a thousand pieces and left you a broken wretch at my feet!" "So it would, if it were indeed the truth!" the prince's voice rang out clearly, "But you, foul creature, are not and have never been my true mother! Do you recall the swan, the single swan that managed to escape your grasp barely a month ago? SHE is my real mother, and she has told me everything, including how to slay you and release us all from your vile curse!" The dragon's webbed neck frill flared out in anger, and made ready to strike the brash figure where he stood......



Blast it! Basil swore quietly in his mind as he forced his quill to halt. He had been putting it off for the last several pages, but he was unable to ignore this particular summons any longer. He rose quietly, not that any scraping of the chair he pushed back would be heard or noted in the regular din of the Hufflepuff common room.

He had been sitting at this desk for the past hour at least, claiming it the instant he had been upstairs after dinner to retrieve his writing materials. He somehow felt....safer surrounded by hubbub than if he had been upstairs writing alone. That and it would be a lot harder to remain barely noticeable if he were to be barged in on, writing in his bed. Any sort of attention like that would halt his creativity like a train crash, and he really wanted to finish this story tonight without any problems or interruptions.

He pushed the chair back in and looked balefully at the neat pile of papers sitting there, glad that he never penned the title on the front until after he had finished the story. He wondered if maybe he ought to run it upstairs to his room before going off to the lavatory, but he had put it off for so long that he honestly wasn't sure he could last the extra trip. Perhaps people would just see it as a spare bit of parchment or someone's messy homework papers. Just to make sure, he pulled the quill from the ink bottle and carefully placed it askew beside the papers; hopefully anyone looking would realize that whoever's papers these were, they would be coming RIGHT back for them, and leave them alone. Satisfied that the message was clear, Basil took one last look back before walking through the common area and toward the separate bathrooms.