Void was more appreciative that the tamers were getting their act together and were moving along. She allowed Kazu and veemon to take the lead just so she could get a glance at Marcus... unconscious and being carried by someone who was once considered the enemy. Life was funny like that, she guessed.

She felt herself starting to calm down, but would then tense up, freezing in place, as she heard a mighty roar. Being one of the more direct breeds of dragon digimon, it didn't take her long to figure out what was waiting a head of them.

"I... I..."

She would try to speak out, chills running down her already cold spine. The fear would begin to come against her, the fear that she usually need Marcus with her to get her through.

"No..."

would be all she'd be able to say as she dropped her axe and fell to her knees.

"We're... we're going to die..."

The draconic cries coming from a head of them would throw her into a phase of hopelessness that would prevent her from being able to recognize the boy coming up from behind them whom was talking about helping them to progress passed what was to come.


Dawn_Of_Broken_Dreams Wrote:


══════════════════════════════════════════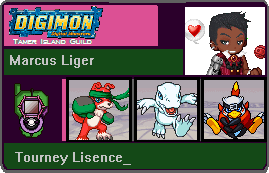 Marcus:

Fainted

*Digimon Attack roll reduced by 1*
Gaomon: 1/4
SnowAgumon: 2/4