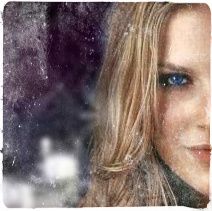 XXXXXXX
ℂ
o
r
i
B
a
r
o
n
o
v
a
XXXXXXX
Cori watched as Wesley cloned multiple versions of himself around her. She stopped in her stride, whipping her head around at the five of them. She didn't know which one was the real Wes, and that didn't make her very happy. She scowled as she looked between them all. Her attention shifted, and then stayed on one. Her concentration distracted.

The jolt came quick, but it resonated within her. Shocking throughout her body with almost enough electricity to lurch her to the ground, but she managed to keep her footing.

Her eyes finally focused her surroundings as the as the situation dawned on her. Her brother and Cohen going at it, Chris was dead on the ground and then Wes . . . She whipped around just as he tightened his hands around her throat. His hand tightened around her neck, chocking, suffocating. Tears welled up in her eyes as she found it harder to breathe.

Her hand grasped at his pulling at them in an attempt to help her breathe, scratching and clawing at his hands, trying to pry them away so that she could breathe. That is, until Cori looked Wes in the eyes. His pain evident, she could see that within his eyes, tears spilling down his cheeks. She couldn't blame him. He was doing what was right, what needed to be done. He had every right to. After everything she had done . . . it needed to end like this. It had to.

So her hands fell from his knowing she had no right to stop him.

Her head was getting heavy, her lids drooping, tears still falling. With the little strength she had, she raised her hand to his face, wiping his tears away with the back of her fingers. A tiny smile graced the corners of her lips and she whispered a wordless,

"I love you."

And she meant it with the whole of her heart, a heart that would always belong to him, even as it stopped silent at his hands.
XXXXXXXX
▩
X
▣
X
■
X
▣
X
▩
X
■
X
▩
X
▣
X
■
X
▣
X
▩
X
■
X
▣
XXXXXXXX
{{OOC:

And now I cry

}}