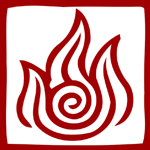 ◘◘◘◘◘◘◘◘◘◘◘◘◘◘◘◘◘◘◘◘◘◘◘◘◘◘◘◘◘◘
◘◘◘◘◘◘◘◘◘◘◘◘◘◘◘◘◘◘◘◘◘◘◘◘◘◘◘◘◘◘
Donte smiled and grabbed for the dumplings and fish. He gathered some twigs around the dilapidated building and put them in a pile then he send a spark of fire from his hands.

"Well what are you doing here in this place?"

he asked them starting to cook the fish a little. He sat on the opposite side of the fire looking into it and some what at them waiting for an answer.
Donte calmed down a little and leaned against a wall becoming tired and his stomach growling it had been a while since he ate something good and said
"Fine we'll talk but first I need something to eat can we find some food?"
He asked them hoping one of them would pull out some food.