astroaries Wrote:
Kara Asumie Wrote:
Co-ownership between Kara Asumie and astroaries for This Basket!!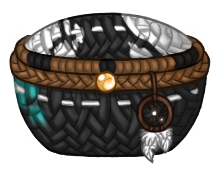 RP rights
Both have OOC and IC RP rights.
Stats can be in Kara Asumie's and astroaries's teepees.
Basket can be displayed in astroaries's teepee in any way.
Breeding Rights
All breedings will be discussed with both owners.
Kara Asumie has full basket rights to first breeding.
astroaries has full basket rights to second breeding.
Final breeding will be discussed between both owners.
Others
Both have sig rights.
Both have Familiar attachment rights <this will be talked over>
If astroaries were to disappear without notice/contact, full ownership will be reverted back to Kara Asumie
The above statement
does not
work in reverse.


Agreed
Seeing as Astro's account has been banned because someone hacked it and she can't get it back. I am breaking this until she returns to gaia if she ever does.

His adult form.