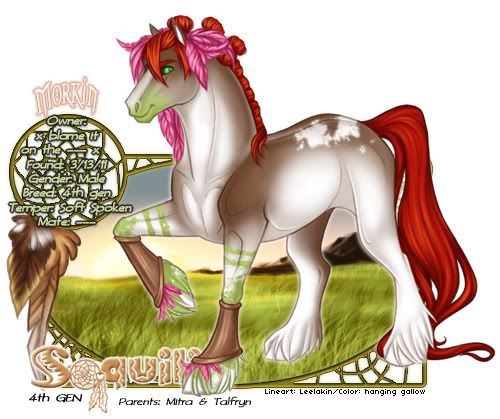 Daylight. It was one of the few times that Morkin really did enjoy wandering about the Flock territory. Though for the most part he didn't wander far away from the safe zone that the males that had yet to be claimed resided in. It was there that he was currently leaving, his head lowered some, trying to stay smaller than most the females that were actually about this afternoon. He was training to be an artisan; training to be more than what he was, so that someday someone would claim him for what he was there for. It was almost hard for him not to be useful. But, he was going to deal with it like any male could, and just continue living, breathing, for the Flock.
So on this day, Morkin wandered. He walked around quietly, his ears flicking some, his mind swarming around what he was going to do today. But nothing seemed to come to mind. He had tried to find his mother, but to no avail, since she seemed to be out of the territory. So, instead, he went looking for something to do. He could practice his dance, or even his song, since he'd learned he had a voice that was rather stunning. He just didn't use it often, in case the Harpies didn't like it. But, that was beside the point. Is eyes drifted, before locking on a stunning female that he didn't quite recognize. Was he so blinded by his thoughts that he didn't realize the Flock was expecting more foals to arrive?
Shaking out his mane of red hair and pink feathers, Morkin started toward her slowly, so as not to possibly startle her. Hopefully this wasn't a mistake that he was making.