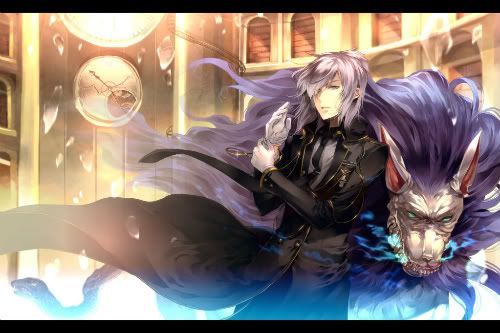 Booth paced back and forth a look of anger and agrivation plastered on his face.

that little brat ill kill him! ill hang him...i'll i'll beat him

he thought to himself befor he let out a frusterated growl and punched the wall causing a huge gaping hole to form. Garth made a soft growl like sound and backed away from his master. He could sense the danger rolling off of his master and was actualy scared. Just then a tentative Demon walked in. "what what do you want!?" he screamed turning to face the demon wanting to rip him apart, not because he was mad at him in particular but mad anyways. "i-im sorry Prince but we found the angel, he is at the tavern." Booth immediatly ran to the door wanting to get the other and ring his neck. The demon tried to stop the other to tell him that his mother was there as well but he was to frightened.

Booth stormed to the tavern and when he got there he icked the doors and they literally flew off of the hinges. In his fury he did not see his mother and his eyes just fell on Setsuna. "you stupid brat." he growled his eyes a blood red, with a black ring around it. "ill kill you!" he headed over to the other and grabed him by the hair and threw him onto the floor and into a table. "booth!" when he heard his mothers voice booth froze just as he was about to head over and kick Setsuna. "he did not run away i took him to speak to him." His mother lied with ease. Booth looked at his momfor a long time befor looking over at Setsuna "is this true?" he asked the angel his hands still clenched in fists of rage.