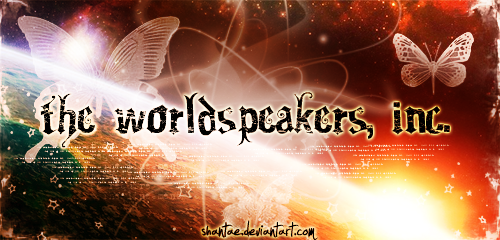 Our History
Camp Chaos started an opportunity to give out free art to anybody who stopped by. Our artists grew and so did the slots, as over 30 people went off with free art. We made friends that summer and refused to home!
From the clutches of a Kaiba theme we went a different route with the title, Worldspeakers.
Twilikam
World speaker was a term I came up with to explain an ability of my dragon lady, where she could speak with the conciousness of.. well.. worlds. I have a strong belief that a world, in itself, is alive and at least somewhat sentient. Kalaris herself tends to try to help these worlds against various things that might threaten that life. She herself is a geomancer, and rather intune with the life energies of the world around her anyway.
We invite everyone to come in and enjoy the free art. It is an open guild for everyone to post. If you join you qualify for your very own art threads and shops and a chance to make life friends.
Links in.......
[url=http://www.gaiaonline.com/guilds/?guild_id=252893][img]http://img.photobucket.com/albums/v355/Escuro-sama/Banners/worldspeakersminibanner.png[/img][/url]
......And out.