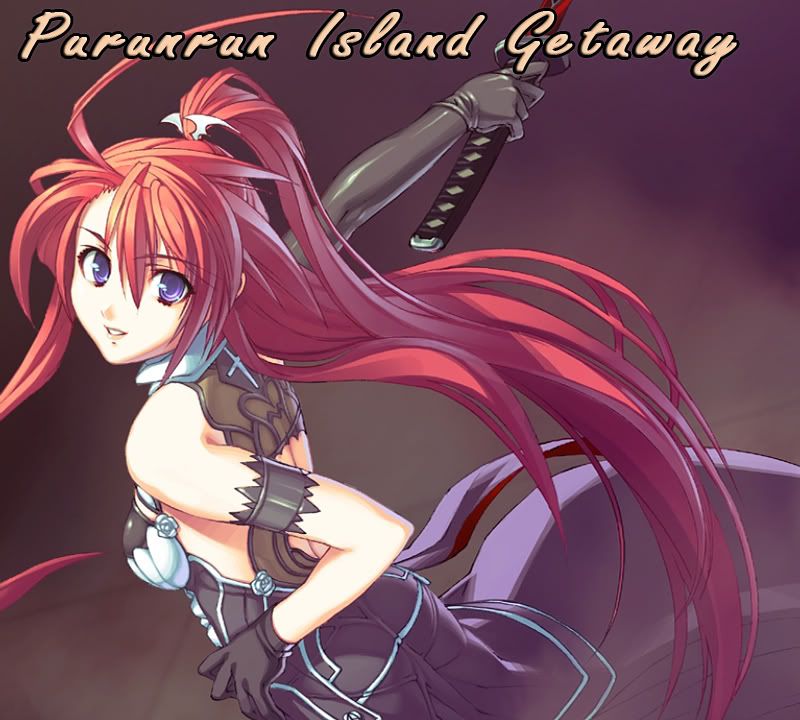 Welcome to the Purunrun Island Getaway!
Welcome, please read the front page's rules, and make sure to see the join request form on the bottom before joining!
Now Casting!
Honestly, anyone and everyone. Have an OC? Have a pre-existing character? We really need the attendance..
sweatdrop
If you have an evil character feel free to throw him in, bad guys are always good spice for our role playing stew!
Succubus/Incubus welcome, or for that matter, Cainites, vampires, and any to every breed of specimen alive, or perhaps undead. All are welcome.
Quote:
Role-Playing Rules:
1.
No cybersex or explicit descriptions in the guild threads.
In accordance with Gaia Online's policy, writing in the guild is to be maintained approximately at PG-13 level.
2.
NO FIGHTING!!
We have an active arena, and most homes will allow fighting unless stated differently, but OOC wise, nothing will get you kicked out faster than flaming and baiting.
3.
ASK FOR YOUR OWN THREAD
In an attempt to keep the guild clean and organized, we ask all the members to make sure that they RP in the current threads. If you want your own thread, please ask Aonice_Mitsoku for Approval. Your own Houses must be earned through RP experience. The only place one may freely create threads is in the Purunrun Community forum.
4.
Literacy is important.
This guild isn't
especially
literate, but it's obvious that Gaia's Community is becoming rather..uneducated. We will not except members that cannot spell or write well, much less have the inability to get a point across. You must be able to post at least a paragraph without glaring typos, proper punctuation and grammar is expected as well. Try FireFox 2, or any other way to use a spell checker. They work wonders.
To join, make sure you have read all of the above text and especially the rules. Please Fill out the form below to provide us with your ROLE PLAY characters information. We do not care much for the person behind the computer as much as the character. Don't worry if your character is cute and hyper or sniveling a*****e, we enjoy diversity, and a bad guy here and there always adds a dash of fun, Harass members and be kicked out though... Finally, DO NOT ask me why you were declined. A majority of requests are declined, mainly because we need people that know how to describe themselves and their actions well.
Finally, Please Save this Request form somewhere. If you're accepted you will be asked to post your characters Information in a profile Thread.

Appearance
Name:
Age:
Hair:
Eyes:
Skin:
Build:
Weight: (
Opt.
)
Height:
Measurements: (
F.
)
Unique:
Misc.
Personality:
History: (
Opt.
)
Hobbies: (
Opt.
)
Likes: (
Opt.
)
Dislikes: (
Opt.
)
Special Abilities: (
Opt.
)