Welcome to the official Gaia Online Market Exchange;
otherwise known as

GO MARKEX

.

GO MARKEX

is a Marketplace and Exchange information center dedicated to providing the most up to date information on current Marketplace and Exchange trends helping investors both large and small make smarter trading decisions with their items and gold.



GO MARKEX

is the only place on Gaia to find the advanced Marketwatch Update, which calculates the Large, Mid, and Small Cap Averages of popular items showing you where Exchange trends are heading, where to buy, and where to sell based on the price of your items.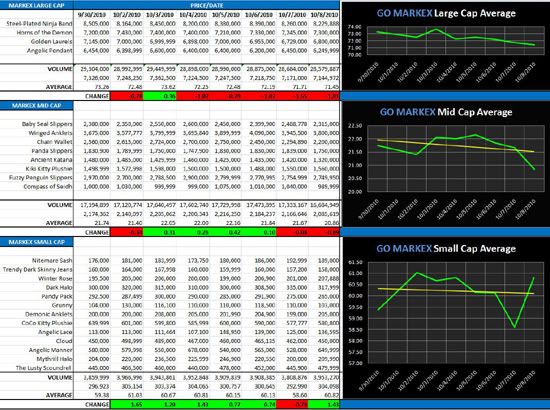 In addition,

GO MARKEX

offers a public trading environment for members to list their items for sale or items they are interested in buying similar to the Gaia Exchange.

However, unlike the Gaia Exchange;

GO MARKEX

offers a trading environment for serious buyers and sellers so no more bumping your trading threads to gain attention of the market or having to muddle through piles of threads to find an item you may be interested in.



GO MARKEX

is a hub of information provided by New York Stock Exchange trained staff, fellow exchangers, and vendors to help keep you informed and keep your gold assets protected from price drops and deflation.

On behalf of LabTech122 and the

GO MARKEX

staff, I cordially welcome you to the Gaia Online Market Exchange and wish you HAPPY TRADING!

DONATIONS

I would like to extend a personal thanks to all the members who have donated to the cause. Without the donated funds, features such as the daily Marketwatch Update announcements would not be possible.
1. Azeizel: 40,000gg
heart
2. RinGo RelzEi Jr: 10,000gg
3. lianator: 10,000gg
4. TrueBonanza: 9,853gg
5. pariaah: 1,393gg
6. Derfz: 1,111gg
7. Ureshii Suika: 1gg
Sincerely,
LabTech122
Director, Gaia Online Market Exchange