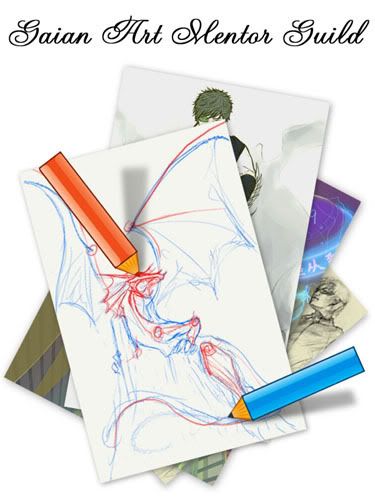 Banner by Look. Thank you!

By Look
[URL=http://tinyurl.com/3382qu] [IMG]http://img.photobucket.com/albums/v198/nini206/avasigs/banner-1.jpg[/IMG][/URL]
About Us
Tired of putting your artwork up for critique in Picture Post only to receive unintelligent comments or no feedback at all? We feel your pain! In order to create a community where thoughtful critiques are the norm, we came together to form the Gaian Art Mentors.

This is a guild where artists are given dedicated help by being paired in a mentor/mentee fashion.
Artists are encouraged to learn and share what they know!

Joining
There are no special requirements for joining the guild - to be a mentee, all you have to have is the will to learn, and to be a mentor, all you have to have is the will to teach. Everyone is welcome, so please come in and have some fun!

When requesting to join, please include the following:
1. Why you want to join.
2. Art gallery link if available.
Note1: Blank requests will be rejected.
Note2: Try not to be annoying. (complete sentences are a plus)
Note3: BBCode doesn't work in join requests!
"You do not know the talent you may or may not have unless you have the technique to bring it forth.
The truth shall set you free. Ignorance imprisons talent." -Stephen Perkins, Anatomy Instructor
IMPORTANT: Please read the stickies in the forums before posting! This will prevent you from looking stupid or getting banned for something silly.
Please do not donate! We have plenty of gold for the guild and the only way we can use it is by purchasing subforums.