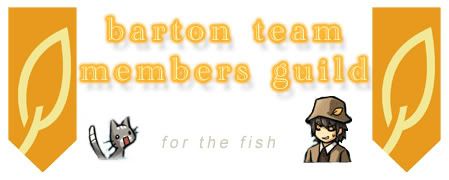 WELCOME TO THE BARTON TEAM GUILD!<3
The Barton Team Members Guild is for all Gaians who love Barton!
Are you a fan of Barton NPCs, events, or the gaia plot? Come here to chat and have fun with other Bartonians :]
We have subforums for contests, roleplaying, quests, spam, discussion and more! We will also plan some meetings in towns.
How To Join
Just tell us in the join request why you like Barton or why you want to join our guild.
Rules
1.) Follow Gaias TOS && Rules
2.) Be respectful.
3.) No advertising in posts. Spam belongs in the spam sub-fourm.
4.) Have fun =]
Affiliates
<3-----------------<3


[/url ]

Barton Team Members Guild, idea by Arkangelstar1
Guild given by x Elemental Noki x