Free to Play with no download
Team up with friends and fight the forces of the Animated.
Featured Recipes
Create the stealthy-lookin' ninja-yoroi top, bottom, and hood with loot collected from Zen Gardens.
Transform ordinary monster loot into cool, usable items with recipes. You gain recipes from fallen foes, by completing quests, and through fun mini-games.
Developer's Journal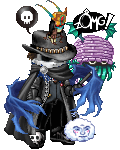 Deadman's Shadow and Server Schedule
DMS is now open to everyone permanently! Now would be a great time to get a character up to CL ...