Berryfarmer
(?)Community Member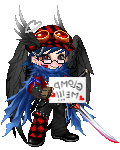 Posted: Tue, 28 Jun 2011 18:33:35 +0000
Chapter 4: General OMGWTF Moments
"Jeremy? Jeremy wake up. Jeremy! Kerri get over here Jeremy just came through. Let's get him clear of the aperture."
Jeremy felt his head spinning as he came around. He felt as if someone had put him in the dryer and set it to tumble. Kerri and Mikey each took one of his arms and dragged him across something that felt like stone. When they set him down he found himself lying next to Penelope who was still unconscious.
"What's going on? I thought we were loading onto the server to find The Phantom?"
Jeremy looked up as Henry came shooting through what appeared to be a swirling black hole. His body was steaming as he lay on the ground unconscious. They were in the Null Chamber. Mikey and Kerri barely had moved Henry next to Penelope before John came through.
"We are on The Phantom's server. We must have loaded to the Null Chamber because Test Island doesn't exist on it."
Kerri helped Jeremy sit up.
"It crewed us all together as soon as we loaded. The server has been loading us in one at a time through that aperture. I loaded first and managed stay conscious through it. Then Kerri came next, then Penelope, then you. We should probably pick out our rings while we're here. I doubt our host will allow us to return here during our stay."
Jeremy shook Henry awake while Mikey was talking. Soon everyone was conscious and on their feet.
"At the very least I think we all should have wish, bandage and wish. And then each of us should probably carry two buffs. Other than that I don't know."
Penelope sat down and was holding her head. It was still hurting from the electronic transportation.
"So who wants what buff?"
Henry's voice echoed in the crystalline chamber. Each of them stared at each other blank stares on their faces.
"Alright listen up!"
Mikey stood up and stood before the others,
"Penelope has raised a good point, we should each carry two buffs, meat, wish and bandage. Penelope you're taking halo and density, Henry you've got rock and keen, Jeremy coyote and ghost, John grab teflon and sphere, Kerri you get divinity and iron, as for me, I'll get pot and sweetheart. Somehow I doubt we'll be needing the whistle. That's five slots of your eight taken the rest is your decision as to what you want to bring. Let's be ready to go in five minutes."
Mikey looked at this assembled crew and sighed.
This isn't going to be easy.
"So who made Mikey the boss?"
Jeremy said as he equipped his favorite ring set.
"Mikey stepped up when we were going nowhere. And he seems to know what we're doing when it comes to the Chapter 1 bosses. John, which bosses will we have to kill? You said 10 fragments, but I know of at least 11 boss tier animated."
Henry slipped on his bump ring as everyone seemed to look at John.
"If the coding has been unchanged for the key bearers then we'll have to fight General Mayhem, the OMGWTF, Kat's Doll, She Wolf, Papa Saw, Predator Pup Commander, Dune Slam, Stone Coatl, Sealab X Head, and probably the hardest for just six people, Landshark."
John spun his Scaredy Cat Ring around his finger a few times before adding,
"Given we are all 10.0, we don't need to rush chapter 1 just head straight to the bosses. We have 8 weeks before Chapter 2 goes live whether we like it or not."
"Okay team let's do this in an orderly fashion and tackle the General and OMG first. To Village Greens!"
As the crew departed from the Null Chamber they looked back, the crystal had sunk into the ground after their departure.
"Looks like there's no turning back now."
Kerri looked at the mound of earth where the crystal once jutted from the ground.
"No room for error either, at least two of us grabbed defib in case the worst should happen."
The walk across the greens were quiet an occasional clink of a gnome foot against the cobblestone walkways echoed as they arrived at the purple roofed mushroom. The crew each applied their buffs as they stepped through the door.
The colors and realistic appearance of the interior caught Kerri and Mikey off guard, the last time either of them had been in this house was the day that the general became an instanced boss. As expected their charge levels auto suppressed to a level only a shadow of their true might. The gnomes came unceasingly with neither mercy nor intelligence in their painted and sculpted faces.
"These guys keep coming how much more until we can actually attack the general? I'm running out of stamina."
Henry shouted as he hacked off a gnome's head.
"Shouldn't be much longer, we're getting into the majors. Those cannons worry me more than the gnomes themselves."
Jeremy cleared the room of gnomes unleashing a dervish's maelstrom. Even as he mentioned the mushroom cannons Kerri, Penelope and John began beating against the hard topped behemoths.
"No worries we got the cannons, you guys just take care of those gnomes."
Kerri smacked into the cannon with a heavy water balloon. Mikey seemed to be enjoying himself killing gnomes. The house was littered with dissolving corpses, around just Mikey were mounds stuck with shurikens, marred by slashing, and burned. As the last corpses dissolved and the cannons sunk away General Mayhem approached the crew.
"I've na'had my coffee and I'm grumpy as hell. Who wants to die?" Mayhem's shovel fists gleamed in the pale light of the house as he gave chase to Mikey.
"Everything we've got now!"
The general's health quickly drained despite constantly assaulting Mikey.
Mikey turned and slashed at the muscular gnome. As a deep gash appeared across the general's chest he cried out, "Faugh! Tis but a scratch. I've had worse from MacTaggert's weed wacker!" Penelope struck the general and pulled her hand back in recoil.
"You chipped my nail you overgrown paperweight!"
She unleashed a fully powered slash on the gnome and he fell to pieces.
"Y'pack a mean punch, but y've not beaten me yet. Have ya!"He cried as his body fell to pieces upon the ground. Mikey absorbed his data as the body disintegrated.
"Note to self never chip one of Penelope's nails."
He laughed. The last piece, Mayhem's head exploded revealing a strange angular golden fragment. As Mikey picked it up he looked at John,
"A key fragment?"
John nodded his head to Mikey's question.
"Good let's go get the next one. The sooner we get them the sooner we can end that Phantom."
Jeremy was the first one charging out of the mushroom house and towards Bill's Ranch. As they all entered the ranch it was strangely still and quiet. Not even an Air Fluff or a Garlic to make noise. Jeremy made it to the gate for Deadman's Pass first and was tapping his foot impatiently for the others.
"Mikey why do you only have seven rings on?"
Kerri had hung back and was walking with John and Mikey, who had got into a discussion about some kind of programming.
"Everyone needs a full eight in order for things to go well."
"We were just discussing that actually see Mikey has a unique gift because of how his brain interacts. And we wanted to think of a way to take advantage of that. Why don't you explain it Mikey."
John looked genuinely excited about something as he walked towards the gate.
"Well I can absorb data from animated when they are defeated as they dissolve back into oblivion. By absorbing this data I can copy several of their attributes such as attacks, debuffs, and other fun things. The problem is I need an open ring slot in order to do use the loaded data. Through exposure to different rings I can absorb their data and mimic their effects using an open slot. So far I can mimic Meat, Wish, Turtle, Taunt, Hot Foot, just about every buff and a few other rings. I'm gimped charge level wise, but being able to use anything and everything seems to be worth it."
Mikey patted Kerri's shoulder and ran for the gate. Kerri blinked a few times watching him go.
"So you risk us all for a curiosity of the two of you. Great."
She rolled her eyes as she caught up with the crew at the gate.
"Is it just me or is everything strangely still and silent? I mean I know we're on the clock but still it's almost too quiet."
Henry commented as they seemed to enter an empty Dead Man's Pass. They boldly fought their way up the side of the hill. Slicing and dicing any and all animated to cross their path. The shock of being suppressed didn't feel as sudden or uncomfortable as it did when fighting General Mayhem.
"Okay team, time to sound the alarm. Spread out so we can keep them confused about which direction to go in."
As Mikey touched the gate the alarm began to sound. As the first waves of OMGs came they were each dealt with quickly. The alarm sounded five more times as the heroes valiantly fought. The presence of so many OMGs was causing Mikey's data absorbing process to go into overdrive. As he looked at his finger without a ring he could see the skull pattern that usually adorned the OMGs. The crew spread out as the fighting had drawn them in closer together. They each gave a nod to one another as they saw the shadow begin to move across the screen.
"Who dares approach this gate? Your insolence shall be punished!" The OMGWTF appeared from the shadow and immediately went after Kerri. She was caught off guard expecting to target someone else. As it attacked she felt a paralyzing fear come over her.
What if we can't win? Do we even have a chance of winning? We should just give up now.
She felt her feet moving without her as she ran from the OMGWTF. It quickly chased her and her health was beginning to plummet. Mikey quickly unleashed his excess OMG data into a burst through his ring slot. The sensation of being attacked by one of its underlings startled the OMGWTF as it turned to face Mikey.
"Your insolence shall be punished!" Mikey began running it around the hilltop as Henry and Jeremy got Kerri back on her feet.
"Hey ugly come on I'm right here!"
Mikey channeled the affect of taunt through his ring slot and was keeping the large monster from attacking his teammates.
"This way big guy."
Mikey did the loser L on his forehead further infuriating the OMGWTF. Jeremy, John and Penelope stalked it from behind quickly draining its hit points away with their continued attacks. Even though she was no longer under the effects of its fear attack Kerri hid herself in a corner.
"We can't do this on our own, Kerri we need you. Get your head back in the game. Whoa!"
Mikey shouted at her as he ran past the monster still in tow.
"I'm too scared. What if we fail? What if we can't beat The Phantom? I can't do it."
Kerri grabbed her head and curled up in her corner.
"Then what good are you?"
Jeremy's words stung her like an ice cold dagger. The rest of the crew was exhausted but managed to slay the OMGWTF. As it dissolved and became data for Mikey to absorb he went and sat next to Kerri.
"You guys get the key fragment and go on ahead."
John and Henry nodded as they picked up a shimmering gold fragment from the corpse. Mikey began speaking in a low whisper so only Kerri could hear him as the others traveled down the hill,
"Kerri, I don't begin to understand what you must have felt taking that blast of fear like you did. But know this, we are a team. For better or worse we're stuck together, and we're the only ones who can save this place. I know it doesn't seem like we can but even some of the best generals fought battles they didn't believe they could win. You said earlier we were a crew who needed everyone, one person not pulling their weight risks us all. Don't let us down."
Mikey stood back up and held his hand out for Kerri to grab.
"Yeah we are a crew. And we were chosen because we're the best ones for this mission. Thank you Mikey."
She used his outstretched hand to pull herself up and the two of them together made their way down the hillside. They reunited with the rest of the crew back at the gate in Bill's Ranch.
"Please tell me she isn't blubbering like a seal."
Jeremy crooned.
"She's fine. And I'd watch that mouth if I were you. We need to be a team to succeed."
Mikey gave Jeremy a stern look. The trees around the ranch still seemed twisted as they approached where Klaus and Larry should be.
"Greetings my esteemed guests."
The Phantom stood atop one of the tree branches as he addressed the crew.
"I see you've had the they honor to duel for the first two pieces of the Chapter Key. No matter, you'll never be able to beat what I have in store for you."
He tapped his cane against the tree branch and fired a strange black beam from its jewel. John quickly pushed Mikey out of the way as the beam struck where he was standing. Instead it hit John who began howling in pain as he seemed to be split into two.
"Insolent developer, that was meant for your prodigy. But no matter it shall still be entertaining. Arise now darkest reflection of John Kim."
The Phantom laughed manically as the blob splitting off from John began walking towards him. It cast off its shadowy film as it turned to face the crew, its eyes glowed red.
"I am KJ, ruler of the animated." It appeared to be a perfect duplicate of John.
"What in the world?"
The crew watched in horror as the monster identifying itself as KJ began summoning Garlics and Alarmskeeters, though they were only charge level 10.
"Oh he's not fully attuned to his powers yet. Let us be off KJ."
The Phantom and KJ began moving towards Zen Gardens.
"Mikey maybe you can get and stop The Phantom and end this right here. We'll take care of these clowns."
Kerri shouted as she heavy water ballooned the crowd around Mikey. He nodded and chased after the pair. He dodged left and right as KJ tried to shoot him with energy beams. The Phantom and KJ both summoned more animated to deal with Mikey but because of their weakening power they were only charge level 3. Mikey powered through the animated but too late. KJ and The Phantom had disappeared into Zen Gardens. Mikey not willing to face them alone went back to help the crew.
"Sorry guys they ducked into Zen and who knows the traps for us The Phantom had? John you okay?"
He looked at the still hunched over developer.
"I'll be fine, just dizzy. Not everyday someone tears half your mind away."
Henry and Penelope helped the developer to his feet, as Jeremy cut Mikey off from approaching.
"You could have had them and you let them get away! We could have been on our ways home without ever having to see each other again and you let them get away!"
Jeremy got right up to Mikey's face.
"Leave him alone Jeremy. He was doing what he thought was safest. You'd probably be too scared to even chase them as far as Zen Gardens if it were you. The key is we're all together and alive."
Penelope bowed her head to Mikey.
"That's easy for you to say. I actually have a life outside this game. And I want to get back to it soon."
"Hush up Jeremy, we're doing the best we can. We got caught off guard in our first meeting with the enemy is all. We'll be ready for him next time. Won't we guys?"
Everyone except Jeremy gave a nod of approval at this comment.
"Fine."
"John as soon as you're able to move we should make our way to Zen Gardens. Kat's Doll is our next target. Until then we rest here."