Berryfarmer
(?)Community Member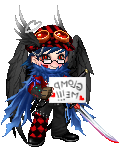 Posted: Fri, 08 Feb 2013 02:32:16 +0000
Brace yourselves, I got a lot of writing done the last few nights and have another side chapter to post. It is set between Halloween Town and Aekea in case it's not clear.
Chapter 20: Confessions
Journal Entry 31,
Date: Unknown
I've lost track of the days since coming to this world. I know it's been several weeks and I know we have a little under three weeks before one of two things happens. Either we defeat The Phantom and are able to live happily ever after, or he beats us and we have to watch as one by one the world succumbs to a techno-virus.
Mikey recently returned to the crew. And my mood about it is a bit mixed. On the plus side we are back up to full strength and can probably hold our own against The Phantom. I mean Mikey alone was fighting him pretty well in Durem, if we can get in on the action I bet we could take him. But on the other hand, ever since he came back he's been a lot more pushy and bossy. Like he's the only one who understands what's at stake if we fail. We're all aware of the risks, we wouldn't have volunteered to take the dive if we weren't aware of what it meant. The world's at stake, but he's picking like we don't get it.
He did finally hook up with Kerri. They try to hide it, but I've seen them stay up together when one of them keeps watch. And the way they stare at each other, I guess I'm proud of him for finally manning up. I wish I could say the same for my love life but things have kind of hit a wall. Penelope and I have kind of been at odds since sky city (like I can remember that damn name of it). Anyway, maybe I should take a lesson from Mikey and talk things out at the campfire.
I'm worried about our team falling apart quite honestly. Jeremy has become a bit melancholic and cynical, John has become withdrawn and doesn't speak much, I think he became that way after Tridra. Penelope has grown up from the selfish princess type I met, and Kerri isn't a scared wimp any more. I guess that I feel left out because I still come across as a… well as a douchebag. I mean here we are in a virtual world fighting for the continued existence of ours and we've each undergone our own personal journeys, everyone except me. Mikey was right when he chided me about running away. I still don't know how he knows half of what he's shown knowing about each of us. I mean he knows things like Jeremy's family situation, he knows about Kerri's dad… I don't think she wanted anyone here knowing about that, but when you overhear two people talking while pretending to be asleep… What unnerved me the most though, he knew about what my mom did and how my dad was. I don't care how "in tuned" is to the technological cosmos but it makes me wonder if he's not part machine himself. It certainly would explain a lot. He knows things before they happen, he is for all intents and purposes a walking zOMG database, add in the fact The Phantom specifically hates him more than the rest of us, and KJ has a thing for him, she told me about trying to seduce him and how that failed… maybe he's at least wired differently from the rest of us ordinary humans.
If he's wired differently that would also explain some of the strange things he can do. I'm not fully versed in programming, I was still in school learning when all this started, but even god modes have limitations, and when Mikey enters a god mode he seems to ignore even basic gaming physics. Maybe that's why he's so resolute on a deadline, maybe he's got his own race against the clock going on. That would explain why he's an a*****e at times.
He told us the other day that there is in fact an organized group of survivors from other crews trying to help us where they can. I felt a bit reassured by that idea, but there was some disturbance when I realized their bodies on the outside probably aren't connected to an interface. I was mad at first when I learned we weren't the first crew, but then it made sense of why they'd waited so long to get this group together and were pressing that deadline. We have to find a way to reestablish communication with the world outside if we're to save the other people here as well. Even if we beat The Phantom I'll not abandon those souls to wander this virtual world while their bodies outside decay. I wouldn't want to go that way. I just hope we can find a way to that Null Moon, and maybe an army would be nice. I don't want to have to fight through an army of those stone golems with just the six of us.
Journal Entry 32
Date: Unknown
We're still en route to Aekea. We still have not been able to get any communication from the Anari or KJ. The device they gave us just spews static. Jeremy and Mikey both tried tinkering with it last night but still just static. I was worried when the Anari went to Aekea, we hadn't been there yet and all our available information at the time suggested it was a warzone between the Aekean robots and natives versus an entrenched and stubborn division of The Phantom's forces. I'm worried the lines may not have been so finite and they were captured and tortured. Funny, when we first met them I thought the Anari were evil and would betray us. I have never been so wrong. Or maybe their going to Aekea was a show so they could betray us. Nah, Hoshi wouldn't do that, she's pretty cool.
I wonder if after all this if the Anari will continue to exist or will they vanish like I suspect The Phantom's server will. That would be a shame, they've grown on me. Originally designed or not they would be very fun to have in the actual chapter two material that hasn't been tainted by The Phantom. I wonder about some of the other animated we've met and made friends with, will they continue to exist or vanish with the server when this is over?
I'm rambling about pixels and programs. But they're more than just pixels now, they're living creatures with a story, albeit virtual ones. Maybe that's why The Phantom is so opposed to people, he sees these virtual creatures as just as deserving of life as we do. But the developers programmed this world and everything in it. Can a program really be equal in life to flesh and blood? These pixels and programs have been more real than some of the people I've met in the real world. Who am I to judge what deserves a chance to live and what doesn't?
Journal Entry 33
Date: Unknown
I've had some time to consider my life thus far. Funny the things a beating virtual sun makes you think about. My father was a gun toting drunk who thought the government was out to get him. Before his descent into madness he was an exterminator some business by the name of someone's Dead Bug. Anyways, my mom was a patient and kind woman who put up with his antics; that was, until he became abusive. She didn't take his crap for too long before she left. She held in there long enough so hopefully I could understand, but I didn't at the time, all I knew was that the only important woman in my life at that time abandoned me and forced me to remain with an ever increasingly bitter, resentful, abusive father. He began to abuse me, nobody knew. Not even my friends from school. I guess I was afraid of being left by women, I could never form relationships that lasted more than a few weeks. There was this girl, her name was Susie, she was the closest I ever came to a stable relationship. We dated on and off again all throughout high school. She was the only one I ever told about my mom. I worshipped my dad when I was younger, but as I got older I began to see him for what he was and began to understand my mom more.
My dad had a tendency to go to the clubs and pick up hookers and gamble and all those other things a man in a midlife crisis does. My mom only wanted him to stop and be a family man, she made time for all the important events. Well they seemed important to me any way. When he finally did stop with the hookers and clubs that's when the drinking and abuse started. I was barely ten years old and my mother left me to such an abusive, lecherous fiend. For years I hated my mother for doing that. Why couldn't she take me with her? Eight years I had to survive abuse, both mental and physical. While all of the kids around me had dads who helped them at science and math and philosophy, my dad only wanted to help if it involved picking his next beer. I hated my mom for leaving me with him. I still bear some disdain for her, but now I'd like to find her and have a heart to heart with her when this is over, maybe my dad too.
I've overheard Mikey talk about his family when he thinks I'm asleep. I must say my dad was abusive but nothing like the ******** up dad Mikey's dad was. The dude tested an experimental game controller on his kids and, from what I heard, confirmed my suspicions about some kind of brain damage. No wonder he's in a rush, he knows he hasn't got long. To add insult to that his dad kicked him out when he was 16. My dad may have been a drunk, but he kept a roof over my head until a moved out after graduation. I miss my mom. I miss Susie. I love Penelope, but I'd still like to catch up with Susie. Find out what she's been doing, apologize for some of the things I did. And I did some bad things, mostly learned from my father. What would I say though? "I'm sorry I was an idiot, I've learned better." I don't think that would be enough, but I have to do something once this phantom business is resolved.
Journal Entry 34
Date: Unknown
I hate it when I'm right. We've been holed up trying to fight our way into Aekea for the better part of a day now. The entire city is a warzone and The Phantom's forces control the city gates, which has made entering the city a bit difficult. The robots have been very helpful, they've been fighting alongside us as we try to retake the gate. Some of them were caught on the outside of the city, that's the group we met up with. They've been coordinating with a group inside the city, but forces inside the city are stretched thing. The Phantom is taking his time but it's like Durem all over again.
We have to get into the city and find KJ and the Anari. Mercurius and Ferrum, two of the robots who have been fighting at our side said that the Anari and a council that was meeting in the old museum were captured in the first attack. Mercurius said they're likely being held in "Peyo's Fun House," an old toy store that was abandoned when The Phantom rose to power. There they'll be guarded by some beast called Malevobear.
According to what little comm traffic we've been able to get KJ is with the robot leader Aurum. Mikey's been on the wireless all day trying to organize a night raid to get us into the city. I don't want to abandon our robot allies out here, but if this council is as important as Aurum says it is we have to get into the city, tonight. I can hear the sounds of shots overhead as both sides exchange laser fire. The air has had a burning quality to it as I try to breath. We have to get inside. We have to save the Anari. This is Henry signing off for now, I hope I can live long enough to make another entry. Over and out…