Berryfarmer
(?)Community Member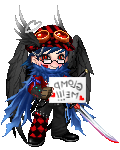 Posted: Mon, 06 Jun 2011 03:51:45 +0000

NEW ANNOUNCEMENT: Once chapter 21 is complete I will more than likely be going through some of the older chapters to add content, improve the writing style, etc to bring the entire story up to the same standard.
(That's not to say I won't be writing future content, I just want to retouch some of the older less detailed content
smile
)
zOMC! A Comedy of Epic Portions.
Written by yours truly, Berryfarmer
What is it you say? A while back I asked forum goers questions about heroes and villains amongst the developers. This is the story produced from it.
Feel free to check out a contest I ran based on this work
here
Another contest relating to Chapter 14: Name all the languages used and provide full translations and win yourself 50k.
Shortcuts to each chapter:
Character Bios
Arts
Character Concept: Guardian of Souls
Character Concept: Frosti the Snowman
Character Concept: Caterkiller / Magmapod / Lavafly the Dweller in the Deep
Character Concept: Tyres Rode, Sulaeh and Guardus
Character Concept: Bianca
Character Concept: Kerri
Character Concept: Doppelord (scroll down)
Creature Concept: Magma Fluff
Character Concept: Henry
Character Concept: KJ
Character Concept: Penelope
Creature Concept: UnDrones
**WARNING** Image contains strong material involving zombie-like creatures. View at your own risk.
Character Concept: Jeremy
Character Concept: The Phantom
Design Process
Behind the Scenes Videos
The Story
Chapter 1: Origins
Chapter 2: Into the Rabbit Hole
Chapter 3: Zomgaians Unite
Chapter 4: General OMGWTF Moments
Chapter 5: Went to a Garden Party
Chapter 6: Lakeside Showdown
Chapter 7: The Battle of Four Armies
Chapter 8: Brawl on the Beach
Chapter 9: Dust and Deceit
Chapter 10: The Sealab X Factor: Part 1
Chapter 10: The Sealab X Factor: Part 2
Chapter 11: Journey Through Shadow
Chapter 12: Gnoman is an Island
Chapter 13: Frosti the Snowman was a Very Murderous Fellow
Chapter 14: Buried Alive
Part 1
,
Part 2
Chapter 15: Inner Strength
Part 1
,
Part 2
,
Part 3
Chapter 16: Light on the Horizon
Part 1
,
Part 2
,
Part 3
Chapter 17: Falling into Dusk
Chapter 18: Heart of Midnight
Part 1
,
Part 2
,
Part 3
,
Part 4
Chapter 19: Battle for Halloween Town
Part 1
,
Part 2
Chapter 20: Confessions
Chapter 21: A Matter of Time
Part 1
,
Part 2
,
Part 3
Chapter 22: Message in a Bottle
Chapter 23: The Enemy of My Enemy
Part 1
,
Part 2
,
Part 3
,
Part 4
Chapter 24: The Longest March
Chapter 25: The Labyrinths of Shadow
Part 1
,
Part 2
Fan Submission
Anari Group Shot
by yiyiafiqa (I loved it, provides a very good visual of the Anari) From left to right: Hoshi, Archer, Deanna, Miles, Sisko, McCoy
Affiliates:

Link to me?

[url=http://www.gaiaonline.com/forum/zomg-gaia-s-mmo/zomc-a-comedy-of-epic-portions-stop-the-phantom/t.72227249/][IMG]http://i47.tinypic.com/2rerybc.jpg[/IMG][/url]
Have a suggestion? PM me, I'm open to ideas.
Feel free to leave feedback or thoughts.
Also a moderator response on this topic and it's continued presence in the zF:
Quote:
Gaidin
Okay, so a couple of days prior to this post, I moved this thread to the Fanfiction forum after receiving a report that the thread potentially didn't belong in the zOMG forum. After a look over the thread, I found that indeed was fan fiction.

However, after re-reviewing the thread, I am moving it back to the zOMG forum. While it is fan fiction and by the basic rules does fit in that forum, it has also been something that the community here has interacted with for quite some time. It has stayed on the topic of zOMG, and is most likely to be appreciated more here. So, while the rules can kind of tip either way in this case, I'm going to go with putting it back in the zOMG forum.

My apologies for the disruption.

~Gaidin
Gaia Online Moderator
Open for business.