ryry Kenny_McGroot ryry
(?)Community Member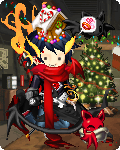 Posted: Thu, 04 Oct 2012 04:50:53 +0000
ya'know, 'cause everybody loves me
emotion_awesome
*ahem*
anyways, since the start of November of last year, I've been writing a book that's basically the whole plot of zOMG! up through the endboss (i'm currently on page 114 and just now 1/3 of the way done
burning_eyes
) i posted a thread like this quite a while ago, but it looks like that people could use some lol's right now, so...
first chapter:

The night was humid.

I deleted the text from the screen. Damn it, I can't come up with the right word! I slumped in my chair, staring at the blank Word Document on the computer.

I'm a writer in case you can't tell. I've been working on this novel for months, and promised myself I would have it finished by Thanksgiving, just one week away. But after "The night was", my mind draws a blank. I'm on flight 913 for Gaia Air, heading back home from my vacation (which was originally going to be spent writing my book, but all my time was used wasting my gold on slots and black jack at Gold Mountain that I wasn't going to win on, but played anyway).

I shut my lap top, put it in my bag and started staring out the window, and was about to try and fall asleep before I spotted something that looked like a hawk in the distance. Was it a hawk? It seemed to be pretty big considering how far away it was. Its wings are pretty big, too. I asked the nearest stewardess, "Excuse me," I pointed out the window. "But do you know what that is?"

She stared out the window for a second, and then her pupils grew real small in her eyes, sort of like what happens when you're in the dark and suddenly the light comes on. "Oh, no…EVERYBODY DOWN!!!!"

"What? What's goin-"

ROOOOOOOOOAR!!!!

I looked back out the window. The hawk was now right by the airplane, and now I realized it wasn't a hawk. It was a blood-red dragon twice the size of the plane. "Holy sh-"

The dragon opened its mouth and blasted white-hot fire at the plane, tearing it right in half about a dozen aisles behind me.

Panic and screams filled the air.

"s**t!!!"

"SON OF A b***h, I SPILLED MY COFFEE!"

"FREAKING DRAGONS!!!"

The stewardesses remained calm like this always happened as the front half of the plane fell down nose-first toward the ground. They pulled out the emergency parachutes (backed by a dragon-proof guarantee) from under the chairs and started handing them to the panicked passengers before they fell out the back of the plane. I was holding onto my seat for dear life while trying to get the parachute on correctly. Something out the window caught my eye. I looked and saw that the engine was on fire. I hoped it would be a little bit longer before it-

BOOM!!!

The engines on the left wing suddenly exploded into a million pieces, and the plane was now spinning like crazy. After getting my parachute on right, I let go of my seat and jumped out the back of the plane.

newest entry:

The sand crunched beneath my feet as the sun rose on the horizon. The tide slowly rose and retreated in front of me. I sat down just above the tide line, took off my shoes and socks and set them aside, and stretched out my legs.

Nobody really gets to enjoy any moments like these anymore, not even before this whole Animated ordeal. People were obsessed with what clothes to buy, what the current flavor of the month the news had, or what stupid new apps had come out on their stupid iWasteaShitloadofMoney phones. At times I feel as though I'm the only person on Gaia who knows what the word "outside" means. Occasionally I see a few people out here, but whenever I approach them, they yell at me to get the hell out of their "kill zone", that it's "their spot", etcetera. I laughed just at the thought of them and their ignorance.

Mercenaries.

Speaking of the people that make up the a*****e of Gaia, a group of 5 or 6 of them was heading my way. They're the dumbest bunch of people I've ever seen; every time I see a new group, I think to myself, "They can't get any dumber than this," just to be proven wrong by the next one that comes along. Well, it's not that they're dumb, they just either have no common sense or choose to ignore it and be a whiny b***h to get what they want. All they know is how to kill Animated, and that more killing means more cha-ching for them.

I slipped my socks and shoes back on and got up. When dealing with people that lack common sense, it's best just to stay out of their way. It's how I've managed not to crack anybody's skull open as a result of getting in an argument with them. I almost did once, and it revealed a darker side of me I hope does not reveal itself ever again. But it's just so infuriating… The thought that people, other humans, the smartest of all the animals on the planet, can be so damn stupid.

Already I could feel the anger bubbling up inside of me, so I quickly pushed the thought out of my head and walked along the shore away from where they were heading; their usual spot by the rocks where the huge bugs with the anchor heads wandered around.

A sudden flash of movement caught my eye. Sand flew, and a member of the group was sucked beneath the beach. The others fumbled about with their guns, confused. I stopped and looked their way, and saw something sticking out of the sand… Was it moving? It almost looked like a board or a fin. Whatever it was, this wouldn't end well if nobody helped them.

I cupped my hands around my mouth and shouted at the top of my lungs, "MOVE!!!"

Unfortunately, this just confused them even more, and they started firing their guns randomly in the air and at the ground. "NO, YOU STUPI-" I didn't bother finishing my sentence. Instead, I sprinted to them and pulled out a high-powered hose from one of my rings. It wasn't good for killing, but it sure tore the s**t out of anything that got on its bad side. Before I could find the shape again to take aim, there was another explosion in the sand, and another man was sucked beneath the beach. Well, half of him. The upper half of his body lay sprawling on the ground. Unable to scream, the body gurgled before falling down to the ground, now lifeless. The others were in shock- their clothes were splattered with blood, and half of one of their friends, who just a minute ago was as healthy as an ox, was now lying dead on the beach.

I raised the hose to my hip, holding it with my left hand and the handle with my right. I scanned the beach, searching for the moving figure. It was over to their right- a single fin that jutted a foot out of the ground moving steadily toward what remained of their group.

The fin sunk beneath the sands, and I was more specific with my instructions this time. "GET DOWN ON THE GROUND NOW!!!"

They did as they were told just before an enormous figure dove out of the sand. I pulled back on the handle, but the powerful jet of water missed it just by a hair. Only now did I realize what it was. That pointed snout, the tail, the fin.

It was a shark.

A freaking shark made out of sand. I don't know how else to describe it- it was a solid figure made out of millions of tiny little rocks. Its eyes were black as the night, its teeth whiter than the clouds, and the inside of its mouth was a seemingly endless abyss. The whole thing itself must have been at least 30, 40 feet long. It dove over the group and back into the beach. The fin moved away from us, but I knew it would soon be back.

The people in the group looked up at me. I put the hose away (for now) and pulled out my grenade launcher. "Now, do you need me to elaborate on the situation," I cocked the gun, "or can we just crack on?"

aren't you thankful for spoilers to prevent page-stretching?
emotion_awesome
the newest entry does not involve the main character; it's more of a spoiler for what they'll have to deal with in the near future. I'm currently just starting Bass'Ken Lake, and i've been having fun with everything so far, especially the mini-boss encounters. s**t got pretty crazy in the doll shrine
3nodding
thoughts? i mostly posted this to help lift everybody's spirits up from all the drama that's been going down lately
stressed