scullylam
(?)Community Member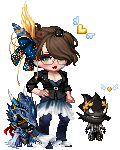 Posted: Thu, 09 Aug 2012 19:14:30 +0000
Shinju Fortuna
scullylam
Shinju Fortuna
scullylam
Shinju Fortuna
gaia_angelleft gaia_crown gaia_nitemareright

o: Then I'll have to try their hot dogs. Sounds tasty! I know what MTV is, I just never watched much tv, and so I didn't know what TRL was. I basically watched Cartoon Network or Boomerang (MTV was on tv when I was younger, so that's what I remember). Pink is awesome, I love her music, I just wish they would play her songs on the radio again. ):

times square is amazing at night. and a new york hot dog, plain is the way to go.
biggrin
sorry couldn't help myself stalking you guys since, well i was just telling my sister what all you can do and see in nyc since she'll be going there sometime. xd
tigerlily
i not even backread from where i posted in this thread last week so i am clueless too? xd
gaia_angelleft gaia_crown gaia_nitemareright

I like my hot dogs with ketchup and (sweet) relish. <3 Sooooooo good. I don't know if I'll be in that area of New York either, I'll be in a city called Syracuse. I don't know how far away that is from the city with Times Square. *shrug* I'll also have a lot of things to do, so I won't have much time for fun. Why is your sister going to New York? o:

ah. sadly i not traveled that much in new york state, only been to the city. but i guess looking up a map, surely the distance wouldn't be too far, if you would have a little "uber fun date excursion" to the big apple.
wink
sister's anniversary trip with her hubby. they're even seeing "phantom of the opera" and i know my little sister is jelly of that. i of course am okay with it. xd then again, if i went back to nyc, i would try to hit up the fashion district, checking out the fabric stores since i didn't have the opportunity to last time.
gaia_angelleft gaia_crown gaia_nitemareright

I travel a lot, but I think it's time to settle down somewhere and establish a home. I -might- go someday, when life isn't so busy, but for now I think I'll wait. But the date idea sounds good, as long as we can find a babysitter. Or we can just bring the baby along and make it a family date. <3

Lux and I plan on seeing plays once we get there. We're hoping that The Lion King will play sometime. XD and you would go to the fabrics. Do you still work on the plushies? Did you ever get the Marshall one done?

*shifty eyes* *looks over at nicolae plush* yeah i still am doing plushies, just i had a lot of rl stuff happen that ever since may i didn't get back to working on them. still going to do marshall because he is one fine piece of man meat that gotta be plushiefied. the art i drew of him for you, i was thinking, that would be a cute type of plushie to make. it's random but well.. xd but yeah i still plan on making them. even if it feels like everything is holding me back to do so, still going to try.
TigerLilyChick
scullylam
TigerLilyChick
Is it Friday yet? What? It's Thursday? Hurry up and get here, Friday!
Friday is the only day of the week where I get to talk to my Gaia crush emo
here, to pass the time, have a cookie.

and yes, i thought there was an emote of a cookie and i spent way too long looking... sweatdrop
Yay! A cookie! *eats the cookie* You're awesome!
biggrin