Emyre
(?)Community Member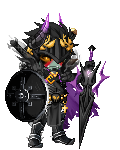 Posted: Fri, 22 Oct 2010 17:48:27 +0000

Yeah, I just thought of it.

wahmbulance Warning: Spoilers in grey. Read at your own peril.

Premise
Exactly what information you see will depend on if you've beaten Endboss or not, so as to avoid spoilers.
A massive spider-like walker robot emerges over Barton's western wall. And I don't just mean massive, I mean [******** huge. Several-screens kind of huge. It's massive, mechanical, and covered in weapons. If you haven't beaten Endboss, you'll simply be told that a massive walker has appeared, rampaging through Gaia, and it must be stopped.

If you've defeated Labtech X, you'll know that's it's been designed by him, and is piloted by him. You'll also know that he isn't simply taking his new animated robot out for a test drive. He's driving it from G-Corp (which is just to the west of Barton) up to the Shallow Sea. He's managed to Animate it, but because of how utterly huge it is, he's planning on taking it to the source of the "wound", to tear it farther open, as that's the only way to get enough Ghi to replicate it. This would not only create an army of evil labtech walkers, but would also cause a huge surge in the population of Animated.

It begins in Barton, and slowly heads south until it moves over into Village Greens. It then moves up through Bill's Ranch, Zen Gardens, Bassken Lake, and finally makes it up to the top of Gold Beach. Each of it's individual Walker legs inhabits one screen at a time.

Since this event will take a massive group of Gaians to complete, it wouldn't be random. It would happen at a pre-set day every week, at a pre-set time (but possibly changing to let people in other time zones play). Possibly even on one specific server. Damage would also transfer across layers, as well, making it a truly combined effort.

Leg Combat
The first thing you can do to take this thing down is to start hacking away at it's legs. Each leg will have a marker of it's current location on your PDA's mini-map. It's got eight legs, all slow-moving, that each inhabit one screen. Only one leg moves at a time, so you get a good minute to inflict some heavy damage before the leg moves. It's got a huge chunk of HP, though, so it'll take a lot of hurt to take one down.
The Legs do not actually "attack" players. However, being under one when it lands will result in a 1hKO, and knockback (so you're not stuck under it). Being near where it lands will also cause some damage. Once it's in position, and Gaians begin attacking it, it'll also occasionally let out jets of steam, which cause bleeding damage, knockback, and sleep.
When a leg is defeated, it will remain walking, but will not damage players, not be targetable, and won't show up on the Mini-map. Once enough legs (four?) are taken out, the main body will be forced to "land" for repairs. All of the legs are retracted into the main structure, which will then be open, stationary, and vulnerable for attack. This main body will take up roughly four to six screens. Which is good, since it'll avoid over-crowding on one screen. Once the repairs are completed, the legs will respawn, and it'll continue on it's warpath.

Aerial Combat
Now, here's the really cool part. Since the event happens on a preset day, Cresento will be ready and waiting in Barton with his Airship, ready to take you up to the Barton Defense Airship. The part of the Airship that you'll start off in is the Main Hallway, a zoomed-out, long, narrow passage through the heart of the ship. On the "north" (top) side of the screen, there are six doors, each of which lead to a turret room. All the way to the left is where you leave the ship, and all the way to the right are stairs, leading down to the engine room.
Entering one of the turret rooms, you'll see that each room has four mounted guns, for a total of twenty four. Clicking on one of them, you enter a stationary FPS Shooter view of the walker, in 3D, making it's way through all the zones. From here, you'll be able to directly attack the body. Now, ofcourse, regular weapons don't work on Animated. Only Ghi-powered attacks, like those from rings, work. So, instead, you'll be shooting collected Cherry Fluffs. They don't do nearly as much damage as high-CL attacks from rings would do, but you don't have to worry about taking down the legs, either. So each method would be roughly balanced.
But Labtech X won't just sit idly by, letting you attack his new invention. While some are in the turret rooms firing, others will be standing guard, as X throws wave after wave of Deathmine through the Main Hallway, headed for the Engine Room. Should too many Deathmines get through, the main engine will fail, and the ship will crash, leaving everyone on board dazed, in whatever area the walker was in when it crashed. If you go back to Cresento, he'll take you up to a new ship, but crashing still wastes valuable time.
As a mini-event, your loot will be the result of completing it. You'll get points for damage dealt to the legs, legs taken out (with your help), damage dealt to the main body, and Deathmines defeated. A multiplier is applied for defeating it before it reaches the end of Gold Beach. The entire walk would take over a half hour. Should it not be defeated by the players by that time, it will be impaled by a large Null-Crystal trap laid by Logan, Edmund, Leon, Kin, or whoever else you want to include. Being impaled would de-animate it and cause it to disappear, with X flying off to build a new one by next week.
Loot would consist of a lot of gold and orbs, as well as multiple rings, common or uncommon loot, and a single piece of event-exclusive loot, should it be taken down by the players.