DeathWyrmNexus
(?)Community Member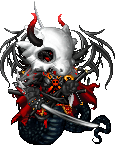 Posted: Wed, 17 Feb 2010 01:58:41 +0000
I want to discuss good business.
First of all, I know that the developers probably have ******** all to do with the actual pricing so I won't go into the price of the new ring beyond the stock statement of "Overpriced ring is overpriced..."
Good, we have that out of the way. Now for what I feel would be a great money maker.
Ring Recolors in the Cash Shop priced at about 150-250 a piece.
I don't know about you but I know I would buy a Black, Purple, and Red Divinity. That is three copies of the same damn ring. Not to mention, Black and Purple Hot Foot. That's two more. Obsidian Mantis, Slash, and Hack... Hell yea.
I think it is a rather clever idea and fitting for the cash shop. No worries about game balancing since it would be recolors of the original 40 and it would allow people to customize their rings. As for new unique rings, I am mixed on putting them in the Cash Shop. Personally, having rings be a free part of the game and recolors as Cash Shop fare was always an idea I thought would be the wisest.
Nobody would feel short changed and there wouldn't be a chance of the Cash Shop rings overshadowing the free rings since it would be selling customization over skills.
Thoughts, suggestions, overly obtuse talking points so I can better snipe my ignore list?
SIDENOTEs:
I am also for the suggested Collector Tab for rings you never ever want to salvage. It would make organization easier and with less mess. It would allow people who tend to go for longer times between ring salvaging to worry less and it would also keep the rings you like away from the ruffian trash you pick up to break open later. Completely separate idea from the recolor idea. XD
As for the recolors being cash shop, I suggest it because it isn't game breaking. I would be for them being unsoulbound until orbs were put in. It is only vanity and vanity sells. So why not make a buck off of it for the sake of the game?
Bladeglory
The Way of the Sword
~~~0==}|3ladeglory~~~
So, basically... It's an item you equip in a special window that changes a certain ring to a certain color? Or were you thinking of making new items such as "Ring: Red Mantis"
Personally, I'd rather it just be "skins" so that nobody can buy their way through the game.

Also, what about more expensive skins that affect all rings. Black & Red, Blue & White, Gold & Silver...
Skins aren't a bad idea as long as I can buy individual rings too.
S0B
What about having a Mantis that's been refitted into an Axe shape, instead of the sword, yet is still exactly the same in all other ways?
Mantis or Hack as an Axe, Slash as a Spear... Guns as a crossbow... Hunter's Bow as a Harpoon Gun. Water Balloon as a Hand Grenade... I can dream right?
Clarification:
The logic behind my idea is that zOMG deserves cash flow but we shouldn't be bilked for wanting to collect every skill in the game. Sooooo, appeal to vanity for the bucks. Vanity is huge on Gaia. Look at my avatar, look at over 90% of avatars on Gaia. People take their look seriously. So, plan for that as a business. People that want to spend on vanity can buy what they need.
Those that don't want to spend on vanity don't... And they lose absolutely nothing for it. I get my theme color coordinated and they aren't cheated out of a skill. Both sides win.
Fun math:
It takes 18,000 orbs to get 40 CL 1 rings to CL 10
Buying 40 CL 1 rings (you can't buy any other CL with my idea EVER) under the lowest cost I provided would be 6,000 GC or $60.00 USD.
Using only GC, it would cost 2,700,000 GC to get the 18,000 rings needed to mulch into orbs to make 40 rings CL 10. That is $27,000.00 USD not counting the cost of buying 40 rings for 60 dollars.
The More You Know!