curtneko
(?)Community Member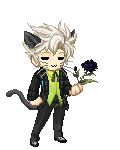 Posted: Mon, 18 Feb 2013 10:49:27 +0000
Sudice
Nymph of Spring
Sudice
Nymph of Spring
Sudice
I got bored of waiting for DMS to open and buggered off for a year or so. I have all the rings besides sweetheart, all are at 10. Super boring and hard to find a party. Seems like zOMG now is just a place where people log in to sit talking for hours. sweatdrop
Usually depends on the time of day you get on.
More activity = later in the day.
When all the kiddies are home from school..
And the grownups home from work.
emotion_yatta
That doesn't really work out for my time zone...
I'm usually always around. I'm around more because I'm on vacation..but that changes by Sunday.
emo
Aw that stinks. Vacations never feel quite long enough.
A few games that I had been playing closed down, I figured I could pass the time here but I was wrong.
xd
rainbow's a really good, versatile player
i'm certain she'd be able to work around your timezone issue as long as you're willing to compromise as well