F1reBurn1ng
(?)Community Member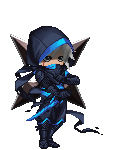 Posted: Thu, 25 Jul 2013 09:56:44 +0000
Red Kutai
F1reBurn1ng
Debuff: Stunned
Does not allow enemies to perform actions for set amount of time. Enemies will stay Stunned until debuff comes off. (This is the debuff Solar Rays should have [e.g. Blinded in place])

This is essentially a unconditional Sleep, yes? It comes up occasionally and it would probably be useful to have something between Sleep and Fear for at least a couple effects. I don't think it would fit particularly well on Solar Rays as 'blinding' in most games is typically represented by reduced accuracy, not the inability to move. That said, there's still probably plenty of room for Stun effects in the game.

Quote:
Debuff: Frozen
Does not allow enemies to perform actions for set amount of time. Enemies will stay Frozen until debuff comes off or when hit enough times to break the ice (the enemy will instead have the Slow debuff [with Frozen still as the debuff] until the debuff comes off)

This seems considerably less versatile. I'd expect to see this more as a specific ring effect than as a general status condition. This can already be achieved more-or-less by causing a Sleep effect and a Footspeed debuff at the same time, causing the enemy to remain slow after the Sleep wears off. Conceptually, I think such an effect makes as much sense for sleep as it does for freezing.

If I were designing a 'Frozen' status, I'd probably include the ability to shatter the target, something like dealing extra damage when the effect is broken. If the bonus damage is percentile (and significant) it would give some advantage to high Damage-per-Hit rings (which don't have much at the moment), and might even facilitate new strategies that focus on freezing enemies and then cracking them open for big damage.

Quote:
Debuff: Poisoned
Deals slow DoT. Enemies inflicted with this debuff will deal 1/4 less damage and receive 1/4 more damage

In general, I think the game mostly replaces traditional 'poison' effects with general Damage-over-Time; I'd like to see more extended DoTs, but a status specifically for them doesn't seem necessary. Dealing less damage and receiving more isn't unreasonable for a status condition, but that alone doesn't seem necessarily fitting for a 'poison' effect.

If I were trying to make a poison effect (that doesn't rely on DoTs, which I agree is the most obvious), I'd probably do it as a way of preventing healing - I've seen poison concepted as such in other games, so I think it makes a bit of sense. Probably something like a 100% Armor Pool effect for healing, preventing you from gaining Health until the poison is gone. And considering how much modern zOMG! tactics depend on the ability to heal, I think that would mean significantly changing the way the game plays.

Quote:
Ring: Life Drain
Ranged. Deals direct damage. Small percentage of damage dealt is converted into healing for the user. Higher rage ranks increase damage, the percentage of damage conversion, and inflict the Fear debuff. The highest rage rank deals the Root debuff on the target during the attack animation.
R1: Small translucent purple hand trying to grab target's "soul" (essentially the image of the target with its colors reversed)
R2: Slightly bigger translucent purple hand grabbing more of the soul
R3: Bigger skeletal hand grabbing even more of the soul
R4: Portal opens below target and a bunch of hands come out and try to drag down the target itself

Life-draining effects are one of the most often suggested rings, and while they're often flavoured as necromantic or vampiric, I personally prefer sillier animations to more serious ones. My favourite concept for this effect was a Frying Pan ring, which I think would fit zOMG!'s tone perfectly. That's not to say that it couldn't be concepted seriously, but I think you'd need a very good reason to.

Is there a specific reason to include a Root effect for this attack? Neither the concept nor the primary mechanic lends itself directly to Root, so I'm not sure why it was chosen over anything else. I suspect it was just to resonate with the RR4 animation, but I think the animation gets the point across pretty well without it and I don't think it really adds anything significant to the design itself. If I felt that a drain attack really needed an added effect (and I'm not sure it does), I'd probably opt for the vampire design and give it a DoT 'bleed'.

Quote:
Ring: Claw Scratch
Melee. Deals direct damage. Higher rage ranks increase damage and inflict Stun and the highest rage rank will also deal the Infected debuff.
R1: A simple swipe
R2: A cross swipe
R3: 3 consecutive swipes
R4: Flurry of swipes with the last hit being a cross swipe

I assume the 'Infected' debuff here is the 'Poison' status from before. I don't think it's exceptionally resonant for a claw-based attack to inflict poison; most poisons in nature are distributed through bites or stings. That's not to say poisonous claws don't exist (I believe the platypus famously has one), but that when most players think of a 'poison' effect, their first thoughts would likely be snake- or spider-bites. I'd probably try there first.

I'll also note that the animation described here reminds me of a ring I've had in my head for a while; I called it "Bear Claw", and it was a simple melee attack that inflicted Fear on critical hits. The animation progressed from a simple swipe at RR1, adding more swipes (and depicting more of the bear) with more Rage. That is to say, I like the direction the animation is going, on its own.

Quote:
Ring: Toxic Waste
Crowd Control. Inflicts the target with the Poisoned debuff. Only deals direct damage on center target. Higher rage ranks increase direct damage, damage over time, and start affecting the area around the target
R1: Throw a Barton's "Beautification Can"
R2: Black garbage bag filled with rotten objects
R3: Dumpster
R4: Barrel filled with green/purple/black ooze (with the radioactive symbol on the barrel

I mentioned bites previously, but this version also makes sense. In general I'm not exceptionally keen on CC-only rings; I prefer attacks with CCs tacked on, as I think they make for better gameplay. That said, if you're going to make a ring that is primarily crowd control, it's best just to leave damage off entirely in order to clarify its role. Putting even minor damage on a ring makes it read like a 'bad attack' rather than a crowd control effect, and it doesn't substantially increase its value in the cases where it's used.

I do like the concept, though, and it's goofy enough that I think it would fit reasonably well. If I were trying to design a Poison Ring I'd still probably explore other possibilities first, but I wouldn't be dissatisfied with something like this.

Quote:
Ring: Immunization
Passive. Incoming damage will occasionally heal yourself

This seems more like a Reflection effect, wherein the damage is converted to healing instead. I don't really like the way it further obsoletes Deflection, and it seems difficult for the game to support too many more of those effects. What's more, I don't think those effects really lead to good or exciting gameplay, especially not in a passive form. I just don't really see how it makes the game more fun.

If I wanted a damage-reversal effect, I'd give it a short duration and a long cooldown, requiring players to time the effect carefully to maximise it. That said, I think the same applies to Reflection and probably works better in that case, and I don't see what this version offers to make it more desirable.

Quote:
Ring set: Experimental Failure/Abomination
Consists of Life Drain, Claw Scratch, Toxic Waste, Immunity
Minor boost to Health and Debuff resistance

This Set doesn't really feel satisfying to me. 'Experimental Failure' and 'Abomination' are not so evocative that I know exactly what to expect from the set, and yet it somehow feels that it doesn't deliver on the theme either. Probably for the same reasons.

When creating a set, try to start with an immediately recognisable archetype - something that lets you envision what's in the Set before you actually know any of the rings. Then, for each of those rings simply make it what makes the most sense for its theme. This set seems like an example of stretching to make an effect fit a pre-existing set, which is how most of the existing sets were created, but it's also precisely why they feel so disjointed. I think the strongest part of this Set is the Toxic Waste ring, and I think that lends itself most directly to a Garbage Man Set or the like. Not the most evocative concept I'll admit, but it gives something a bit more tangible to work with. From there I'd probably go for a truck/compactor ring, maybe nose plugs, and... Well, the fourth slot's always the hardest. sweatdrop

Quote:
Ring: Lightning Bolt
Ranged. Deals direct damage. May Stun targets. Higher rage ranks increase damage, probability of Stunning, and starts penalizing target's Dodge
R1: A small jolt
R2: A bigger jolt
R3: A stream of lightning from the user to the target
R4: Lightning strikes the target from above

Lightning is pretty straightforward, and Damage + Stun isn't a bad effect for it at all. I'm not sure it gains much of anything by penalising Dodge, and it's certainly not the only effect a Lightning Ring could have, but it's a solid design nonetheless.

Quote:
Ring: Snowstorm
AoE. Deals direct damage. Inflicts Slow debuff on affected enemies. Higher rage ranks deal more damage and start inflicting targets with the Frozen debuff.
R1: Snowfall around the enemies
R2: More snow and strong winds
R3: Even more snow. Snow starts to build up around the enemies
R4: Snow completely buries the enemies

If you're going to have a Frozen status and a Snowstorm ring, I'd really just attach them directly - there's really no prize for subtlety in game design. An AoE that damages and freezes enemies is straightforward, evocative, and functional. Sounds fine to me.

I do have to agree with gataka here though, that the animations would probably be a bit sillier than you're predicting. Snowmen and igloos and other nonsense would abound.

Quote:
Ring: Fire Burst
Ranged. Deals direct damage. Deals AoE damage around the target. Higher rage ranks increase damage and affected area around the target. Higher rage ranks also start knocking enemies away from the target.
R1: Burst of fire around target
R2: More intense burst of fire
R3: Big fire explosion around target
R4: Massive explosion around the target

Explosion Ring. Pretty straightforward, nothing to get really excited about. The Knockback effect needs to exist at every Rage Rank to distinguish it from other rings (like Heavy Water Balloon), but apart from that it's solid enough. That said, if I wanted an explosion effect I'd probably look for a more exciting way to do it - timed grenades, proximity mines, hot potato, something. It's a fair ring, but I'm not convinced it does its effect justice.

Quote:
Ring: Black Hole
Ranged. Deals DoT damage on and around target. Enemies around the target will be sucked in to the target. Higher rage ranks increase damage, duration, AoE range, and pull strength of the black hole. The highest rage rank has a tiny chance of instantly killing the target (about 1/100000). Animation lasts throughout DoT
R1: Small black hole
R2: Slightly bigger black hole
R3: Twice the size of R1
R4: Twice the size of R2

I've talked about almost this exact ring before, and I've always been fond of the idea (as I am with all unusual Knockback effects). I'm not sure why you'd opt for DoT in this case - personally I like the idea of it dealing simple percentile damage as Final Fantasy gravity effects do, but that's just a personal preference. What I will say is that there's no point including an effect that activates as rarely as it does on this one. If you want the ring to do something, make it actually do it. I don't think the ring really needs the effect (and so I'd probably save it to be used somewhere else), but if I wanted this to be the 'instant kill' ring I'd probably just make it do explosive critical damage - that way on the occasions that it does hit critical, it will likely kill small enemies instantly just through damage.

Quote:
Ring set: Dark Wizard
Consists of Lightning Bolt, Snowstorm, Fire Burst, Black Hole
Minor boost to Stamina and Stamina regeneration

This is in a bit of an awkward spot relative to the Shaman Set - Shaman uses elemental 'magics' and also increases Stamina Regen, making it a bit unclear what each is trying to evoke. There's nothing particularly 'dark' about the Dark Wizard set either, unless you're referring to the traditional Black Mage class. The rings used in the set are more evocative of an Elementalist (like the Shaman) than of a Wizard specifically, and if I were making a Wizard set I would expect it to have very different components. Fireballs, grimoires, turning enemies to frogs - snowstorms and black holes just aren't the most evocative options available.

----

All-in-all these are some of the better ring/set designs I've seen; you seem pretty good at reigning yourself in, and as a result they weren't nearly as overpowered or overcomplicated as a lot of what I've seen. Most of the concepts were a bit on the serious side for zOMG!, but as the game rides the fence between serious and whimsical I can't really blame you. Probably the biggest advice I can give you is to keep in mind how your designs actually affect the gameplay - if you're going to add something to the game, it should be because it makes playing it more fun, not just because you can. Keeping an eye on how each addition makes the game more interesting, more exciting to play, is the quickest way to good results. Adding things 'because they're cool' always sounds good, but it rarely ends as well... sweatdrop

I did not expect such a thorough review of my idea since it just came from the top of my head
eek
. I understand that there is no way any of all the ideas everyone came up with will ever be implemented in the game
crying
. I appreciate that you took your time to review my ideas. I have to agree that my thoughts for animation are a bit on the darker side (that's probably from the influence of DMS...) and that it needs to be a bit more whimsical. I still have a lot more to learn about stuff like this. But, all in all, a well thought out review that I really appreciate. Thank you
biggrin