DeathWyrmNexus
(?)Community Member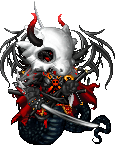 Posted: Sat, 03 Apr 2010 02:47:00 +0000
The Gnome General, festering in his rage at his earlier defeats takes to sulking in his quaintly appointed cottage, however, after his seven to nine thousandth defeat in a season, decides to do something about it. Animated are falling left and right and so when server lag becomes too much for the citizens of Gaia, he ventures out into the night.

In his travels, he comes up other dredges and cast offs of fights long past, still tingling with energy from their previous animation. So on a whim, he ingests some of these bits as an experiment into the natural of animation. After all, the fluffs are just a jumble of parts pulled together towards a common end, perhaps he can do something similar. It is best not to question the mind of something so alien and horrible as lawn furnishing brought to life. However, an epiphany occurs as he does indeed grow stronger and with each passing meal, some of which die by his own spade instead of Gaian intervention, his power waxes further and he becomes something more.

His first true victory is over the She Wolf, besting her with his new strength but also feeding her some of his new power and thus the mighty General gains a mount worthy of his new stature. Together, they start an exodus to find a new place, a place to grow, to evolve.

Gnomes and Outlaw pups follow at first, slowly growing stronger in their presence. Then Tiki Warriors and Witch Doctors catch whiff of the power in the air and follow suit, also gaining more power by the proximity of their new lord and god. The confusion and chaos by their less organized brethren allow for a pirate ship to be taken and with this they travel far into the Shallow Seas, looking for a new home. Sea Spouts follow this dread vessel, as it too is now alive for being so close to the General's power for so long and developing its own malignant personality. The dread vessel, dubbed the SS Gnomercy, becomes a scourge of other vessels, their fleet and armory grows with each battle.

Some of the gnomes become accomplished rifleman while others become dervishes with twin cutlasses. The tiki warriors never truly abandon their primitive fighting ways but do learn to use bombs to great effect and their shamanistic magic becomes more potent with practice. They have also perfected the Spirit Pyres to drain life from their enemies and not just spirits, a useful new tool to sap their foes.

Finally, their exodus is over and they find an island the General dubs Gnome-Man's Land. He sets them to work, digging a maze of trenches, building his villa, improving their Shroomcraft, and working on his secret plan of revenge. Soon there are parapets with black Mushroom Cannons bearing white death's head patterns with Gnome snipers for support though the little men have to regain their feet after every shot. The trenches leading to the villa are riddled with boltholes for Tiki men and Gnomes to dash out and overwhelm intruders. Tiki Witchdoctors construct their newly designed Spirit Pyres to sap enemies at key junctions until destroyed. Even the grand fountain of the villa holds a power Water Spout and her retainers. All the while, the great General rides the She Wolf over the land with her spawn guarding his courtyard like creatures possessed.

Yet what truly lurks in his heart is his next plan. Within the dormant volcano of his new island domain, gnomes engineers and tiki witchdoctors work on a new type of mushroom cannon. The extra fortress has already been made away from the villa, now they just need to perfect the Mushroom Cannons that will give it lift then they will rain doom from the skies...

((And that is my idea for a new area, as discussed and modified with SykoCaster.))

Just the Facts:
Gnome General has his very own island which contains:
Trenches with Boltholes, meaning gnomes and tiki warriors can spring ambushes or generally just show up to wreck you.
Spirit Pyres, now adapted to be stationary Damage over Time areas that will need to be destroyed in order to stop.
New and stronger Mushroom Cannons as well as Gnome Snipers, waiting for you to pop out in the open from the trenches.
His new villa, complete with rabid Outlaw Wolves and a Boss Water Spout in the fountain.
You'd battle him as he rides the improved She Wolf, defeat will mean knocking him off which sends him running to his fallback base in the volcano, that he is working to make fly.