DeathWyrmNexus
(?)Community Member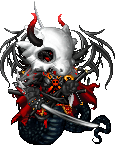 Posted: Fri, 18 Jun 2010 02:57:59 +0000
First of all, this is an idea that I've alluded to numerous times but always seemed to forget to nail down the facts for. Soooo, doing that now. Sorry for the delay.
Right now we lack any real way to specialize beyond passive rings and Meat. We lack any real bonus for ourselves without dedicating 1-3 ring slots that could be better spent helping out the crew. Another ring isn't the answer so why not continue the Bling idea? Amulets are next on the list of common jewelry. This is also another way to keep Orbs as a diverse currency, relevant even as we move past upgrading all of our rings and get all the epics.
Here are the terms we will be using.
Ghi Lore:
Your stock of aura knowledge to be used in crafting. You have two options for accumulating lore. You can buy certain auras from a basic list garnered from the memories of Gaia itself, paid in orbs. The other method is multi step side quest completion given out by esoteric NPCs.
Simply put, it is a store of your aura recipes with its own tab. Learn it once and you can use it in any amulet thereafter.
Ghi Forge:
A powerful Animated who you must seek out to forge amulets. To make an amulet requires loot and orbs to be given to the Ghi Forge. Should require a quest to find. His motives are his own or he might share them. Who knows the mind of a living temple?
Auras:
Passive self altering powers that must be focused through a ghi imbued talisman to function.
Now here is the part where I sense that people will pull away from this idea even harder than before. What if... The amulets weren't soulbound. You could sell the fruits of your labor or share with other Gaians. Gaians who have a lot of orbs, lot of Ghi Lore, and lots of time could become literal craftsmen, selling powerful wares with only the buyer's market to dictate price. Obviously there would need to be a limit to the number of auras you can put into one amulet but I would personally suggest four auras at max.
Examples of possible powers include: (stolen from my previous thread)
Pirate's Bounty, a power that gives you gold whenever you make a critical hit.
Shadow Dragon, a power that gives you a boost of healing when you make a critical hit
Healer's Boon, a power that gives you a chance to critically heal your allies.
Soul Stealer, a power that increases your chance of getting orbs to drop.
Sniper, a power that gives you a boost to accuracy
Knight, a power that gives you a boost to armor
Shadow, a power that gives you a boost to dodge
Innocuous, a power that decreases hate generated by rings
Hardheaded, a power that gives you a boost to willpower
Big Boned, a power that gives you a boost to weight
Charmed, a power that gives you a boost to luck
Anger, a power that increases critical hit damage
Backhand, a power that increases Knockback on all attacks
Parasite, a power that gives stamina back on critical hits
Insomnia, a power that grants immunity to sleep
Zealotry, a power that grants immunity to fear
Weed Whacker, a power that grants immunity to root
Armorer, a power that grants a bonus to armor granting rings
Haste, a power that decreases ring cooldown time
Thorns, a power that gives a constant damage back to attackers
Overwhelm, a power that gives a damage boost to rings
Sandman, a power that gives sleep effect on all attacks
Venom, a power that gives weak DoT on all attacks (stacks with normal DoT)
Horror, a power that gives Fear on all attacks
Entangle, a power that gives Root on all attacks
Summon, As long as you wear the amulet, you have a minion dictated by the specific summon you select.
Quote:
Example:
DeathWyrmNexus decides that he wants to make an amulet to befit his ego and dragon god-ness. So being another lover of dark powers, he seeks out an ancient and dead dragon spirit NPC and with some help from friends, manages to complete the difficult quest string, learning the dark aura: Shadow Dragon.

However, he also wants a few other powers for this amulet. Sooooo, he looks at the basic aura tree available to anybody and decides that Overwhelm and Anger from the above selection, increasing damage and critical damage. Apparently memories of war are common to the Gaia memory.

Finally, he realizes that he wants to be able to hoard power. Soul Stealer is an aura from above that lets you get more orbs on critical hit. However, Gaia's memory won't have information on how to profit from the Ghi Wounds. Another NPC, one with a predilection for studying misery, would need to be consulted and a quest or few completed.

Assuming he finishes with all his aura learning, DeathWyrmNexus would need to get to the Ghi Forge. The Ghi Forge would be a powerful and enigmatic Animated, willing to use its power to forge an amulet if pieces of other animated and plenty of orbs are used. Even getting to the forge in the first place would take questing and following hints.

This makes ONE amulet with Overwhelm, Anger, Shadow Dragon, and Soul Stealer.
TL;DR Section:
Basically amulets are solidified unit of ghi powers.
Ghi Lore represents your knowledge of auras
There are basic auras from the memory of Gaia that are purchased with orbs and special auras you can only get by questing for certain erstwhile mystics.
To make an amulet, you must reach the Ghi Forge, which is a powerful, sentient Animated. It will require loot and orbs to make an amulet.
I intend for amulets to be upgradable. In the example, if DeathWyrmNexus wanted, he could just make an amulet with just one aura and then come back later when he has more orbs/aura knowledge to add to it.
Finally, I am for the idea of amulets being unsoulbound and thus available on the marketplace as user created gear for the game.
Quote:
TL;DR Example:
Your Ghi Lore includes: Pirate's Bounty, Entangle, Haste, Venom, Soldier, Charmed, and Backhand.

You decide that you want an amulet for soloing. So you put in Pirate's Bounty, Soldier, Charmed, and Haste into it.

Then you decide you want an amulet for sniping, just cuz. You put in Pirate's Bounty, Haste, Entangle, and Backhand.

Two amulets, drawn from the same Ghi Lore.
One important caveat. These aren't rings. You can't use an amulet to directly attack or defend yourself. They have quirks to further customize your playing experience and power curve.
Feedback:
SykoCaster

Okay, then.
Here's the problem.

Let's say, for argument's sake, you have 8 abilities available.
That's 1,680 individual combinations of Amulet with 4 auras.
Including Amulets with one, two, and three auras, that's 2,080
I, for one, wouldn't go through over 2,000 items to look for the one I needed.
Even if you have a tag for one of the auras you want included, that's 210 listings to go through.
Not to mention that I wouldn't even bother in the first place, since the chances of me getting the exact combination I wanted would be tiny in the first place.

Even all that aside, what're you going to call them in the MP?
"Pirate's Bounty/Shadow Dragon/Soldier/Haste-Amulet"?

I think selling "Amulet Piece: Pirate's Bounty", shaped like a golden-yellow quarter-circle, and allowing us to equip four of them, would work better, from a strictly functional standpoint.
Or, have the Amulet wedges be craftable recipes, loot items that you can sell on the MP.
Then you can take up to four of those to the forge monster to make your amulet.