DeathWyrmNexus
(?)Community Member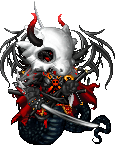 Posted: Sun, 25 Oct 2009 22:53:58 +0000
It is that time of the year again and while technically Zombies are always in season, Halloween brings them closer to our hearts before we use the shotgun.
That said, I went to think about how to best include them without pissing off the Grombie and Glompie Gaians as well as allay the possible worries about including them. First of all, I will explain my premise.
Animated Computer Chips, acting as nanobot swarms, infest corpses. Inert, Unanimated corpses. They then ride this body as well as find other objects to graft onto themselves. The result is partially armored zombies. Cyber Zombies as the lowest form and most common, have low dodge but high defense and hp with a simple slam attack. Next up on the food chain are Cyber Ghouls, a bit more aware, slightly faster, and with a poison attack to go with a stronger slam attack. Finally, their leader is the Cyber Lich, a creature with an extra set of mechanical arms and a staff to cause status effects.
Of course, all good monsters need a location, so I am thinking an old asylum with a history of malpractice and a ton of skeletons in the closet, so to speak. Tons of bodies to work with.
When they die, the chips overload and they explode into dust. Recipes could include the Cyber Lich's regalia, more robotic patchwork parts, and even a possible Cyber Zombie skin.
Now to address the possible story concerns. They are infesting bodies that have no life of their own. No spirit, no undead spirit, nothing. Ergo, they would have to literally kill you to infest your body, which the existence of the Null Chamber prevents. So you would be doing this quest to save Gaians who lack the power of the rings thus the safety of the Null Chamber and generally get your zombie killing mojo on.
This would be within storyline canon since Ghi has shown a willingness to infest organic matter. Carrion Flower Fluffs, Grass Fluffs, Coral Fluffs, Brain Clams, Outlaw Pups (leather), Tiny Terrors (Wood), Cherry Fluffs, and Garlics to say the least.
Thoughts?
Ideas so far
Quote:
Here
is where grounderous feels is a great place for them.
keito melfina
Zombie hunting = heart perfect time of the year for this.

Should certain rings give special reactions when fighting said zombies?

- Like Fire/Heat-based rings burns them, draining their HP quickly but close contact deals damage to the players.

- But GGGuns has high Crit. % when dealing w/ Zombies.

- Defib causes a status condition in which zombies are shocked, confused and bump into other zombies, dealing damage + transferring the effect.

I mean these are zombies we're talking about...
Quote:
Val suggests a Shotgun Ring and this for the location.
G-Corp itself
Quote:
ZekeBugs suggests Defib confuses them and they have a random haste/frenzy ability. Predatory rush, so to speak.
Quote:
Syko brought up the idea/quirk of Ghi replicating inanimate matter as animated sooo this was my thinking.

"Well, nothing stops the nanobots from repairing the destroyed corpses. wink
So if we don't do a proper amount of purging, they could have as many zombies as they need. Let alone that they could always be raiding outlying areas for body raids. You do have a point though.

The advantage of Grounderous's idea is that it is creepy as hell and iconic. The advantage of Val's idea is that it being G-Corp could justify your idea of access to genetic material to clone bodies. Without an animating soul or simply killing the bodies, tons of rotting clone bodies could be available to the nanobots."
Quote:
xXRyogaXx brings up the point of possibly skipping the body and have some kind of morbid effigy instead. This could satisfy those with more purist ideals about the game and still works my idea just as well so definitely not to be discounted.
Quote:
AnCatDubh has the idea for two forms of Cyber Ghouls, one with Poison and another with some sort of AoE ranged attack like a rocket launcher.
Quote:
AnCatDubh gave me another idea. The basic idea of nanobot reanimation is that they can repair bodies, thus justifying a constant supply. However, it also works as a percentage chance of an enemy reanimating after being defeated, adding to the peril of fighting a mob. They have a decent chance of constantly coming back.
Quote:
Another critter for the area could be a Glasset Hound, a hound made of glass beakers and windows that charges at you but has weak HP. When it dies, it explodes though. Be careful of them in packs.
Quote:
Syko suggested the zombies have multiple forms, perhaps losing limbs as they take damage. I'm iffy on this since I don't want to complicate things. I would be for a percentage chance that zombies defeated will end up as torso zombies that can still try to root you.
Quote:
AnCatDubh suggested that the quest item could be The Necronanonomicon, a garbling and confusion book of evil that only a truly warped mind can understand. This would be brought back to a NPC to lock up and never see again.
Quote:
AnCatDubh suggests Gravedust Fluffs and a random croc in a flooded area ala Resident Evil 2 for cool decoration factor.
Quote:
As a group, we've designed a ring set that has a Chainsaw ring (Slash with DoT and possible slow), Shotgun (AoE cone with Knockback), Flashbang (panic button activation like Diagnose but has a chance to Sleep enemies), and an Herb ring (Heals stamina and hp in ticks like Bandage)