DeathWyrmNexus
(?)Community Member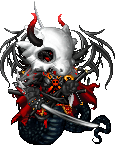 Posted: Mon, 05 Apr 2010 20:20:14 +0000
First of all, credit goes to Ung. As to why I am making a solo thread for this idea as it is a big idea and very distracting so I didn't want to steal from Ung's topic.
Basically this, a
spirit/summon/
aura that only activates when the player is the crew leader. A tactical bonus, if you will. These would be bought with orbs starting at 10k and up. Yes, decently expensive but also decently powerful.
Example: SykoCaster and I are in a crew with some randoms just wanting to make some gold, so we set him as Crew leader because he bought the 30k leader power, Pirate's Bounty. So we are all making bonus gold. However, we get bored later and decide to hit up hard mode SS with people we don't know. So we switch over to me as crew leader and I activate Shadow Dragon which cost me 30k as well, a power that gives us all life leech when we do a critical hit.
These are leadership powers that only activate when you have the crown. So they would also work when you are soloing. They would have a high cost in orbs but would also have a decent effect.
Yes, technically you could end up with all of them but can only use one at a time and the cost of getting all of them, especially the more powerful ones, would keep you farming orbs for a long time. So the cost would nudge you towards selecting a select number of powers to suit your style of play.
Examples of possible powers include:
Pirate's Bounty, a power that gives you gold whenever you make a critical hit.
Shadow Dragon, a power that gives you a boost of healing when you make a critical hit
Healer's Boon, a power that gives you a chance to critically heal your allies.
Soul Stealer, a power that increases your chance of getting orbs to drop.
Drill Sergeant, a power that gives everybody a boost to dodge, accuracy, and armor
Anger, a power that increases critical hit damage
Backhand, a power that increases Knockback on all attacks
Parasite, a power that gives stamina back on critical hits
Insomnia, a power that grants immunity to sleep
Zealotry, a power that grants immunity to fear
Armorer, a power that grants a bonus to armor granting rings
Haste, a power that decreases ring cooldown time
Thorns, a power that gives a constant damage back to attackers
Overwhelm, a power that gives a damage boost to rings
Sandman, a power that gives sleep effect on all attacks
Venom, a power that gives weak DoT on all attacks (stacks with normal DoT)
Horror, a power that gives Fear on all attacks
Entangle, a power that gives Root on all attacks
Obviously, there is tweaking to be had but I am curious to see who all would even consider this power as something worth their orbs or would enjoy having them as part of crew tactics.
SykoCaster

Well, for price... why not make them upgradable?
Just to buy the "Aura", something low, like 1k orbs. Less even.
That would just give you a basic, weak, leadership bonus.
Upgrade it for 3k orbs, you get a stronger leadership bonus, plus, say, the Crit bonus.
Upgrade it again for 6k orbs, you get a slightly stronger leadership bonus, plus a non-crown bonus.
And just keep going.

tangocat777
oh, nother idea, make it only work if your crewmates are on the same screen. New players are probably going to be dependant on oldbies, so using this as a way to put a leash on them would be doubly awesome.
Quintafeira12

Anyways, that was what I was saying I had in mind for a tech tree idea. You can only access this screen from the null chamber, and it serves for both buying and "equipping" an aura. First you have to buy the basic Aura which gives a very minor boost, and then you upgrade from there in any path you want. The more to the right, the more the orbs you need to turn in. The top branch would be the Pirate's Bounty Branch, the second the Shadow Dragon branch and so on. Any auras you already bought would have a glow around them to indicate that you already have it. On the right, a description window shows the picture, the name, the strength of the aura and if you don't already have the aura, the amount of orbs you currently have and the cost of upgrading the aura.
oh, and bump.