Sahri
(?)Community Member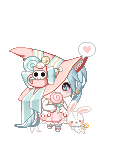 Posted: Sun, 18 Sep 2011 16:11:38 +0000
Most of you guys have already encountered them, some of you multiple times: The Night Patrol. Hunting them has become my hobby these days and only a few days ago an interesting idea crossed my mind. Well, interesting to me at least. What if they actually have a leader? The Big Box or Boss Box. Bigger, scarier...
DEADLIER
! He only comes out if a certain requirement has been met and has a wide array of debuffs, making it impossible to fight him one on one. Maybe he could actually take one of your rings, making it impossible to use it until he dies. And he should roam the entire Bass'ken Lake area so it wouldn't be a wise idea to go AFK when he is out and about, except when you're standing next to the Null Crystal.
His looks
I think of him as an oversized black giftbox, like the one we know from April Fools but he looks slightly different. In my mind he has bat wings, ferocious teeth and a forked tongue. Maybe a tattered red ribbon to top it all off. If you feel inspired to draw this, then I won't stop you because I can't even draw a stick figure xD
His attacks
He should have a wide array of debuffs, like bleeding, slowdown, fear and of course a special move that could screw you over BIG TIME! He should be able to consume/disable the ring you used last or maybe just a random ring if the server can't keep up with that. And of course you can't replace that ring until he has died. Or he could change you into a Flying Giftbox! Since Jack could change us into Pumpkin Fluffs I figured this would also be a nice addition to his moveset. But maybe you guys have other ideas about his crew-crippling moves.
Requirements
Getting this guy to show up won't be easy. I had various things in mind:
Killing sufficient Flying Giftboxes (an invisible counter of some sorts that doesn't reset at midnight PST)A repeatable quest that you can do only once a day and it requires you to kill the Night Patrol in order to bring him outKill the Night Patrol within a certain timeframe
I'm open to more ideas on how to summon him, but he could just be a random KJ spawn instead
razz
His name
For now I'd like to call him Big Box or Boss Box but it's only a placeholder. I'd like to see if you guys came come up with something interesting
smile
This is what I thought up so far so I'd like to hear what you guys think of it.
And please don't forget to <3 this thread
biggrin
User suggestions
Lineks
How about the "BoxFather" resembling the obvious name of the God-Father ;o
EliteDanneh
Big Box of Boxhound?
gataka
Careful with this: could ruin the area for most until people good enough appear to save it and who knows how long that can take.
Or until it leaves but you do not mention any timer/limit.

Akin to old Landshark and maybe Bug breakout.
Izumi Motou
The Bawksfather. I was inspired by Lineks's suggestion :3
-Shiny_Tsukkomi-
We already have Mama/Papa Saw, Mama Fluffs, and She-Wolf.

Therefore, this boss box better be a Grandpa.

Let's go a step further and say he's made of those brown paper packages tied up with strings. xD
I Minerva I
Perhaps this boss would be amazing but maybe if he had his own mini area inside the windmill.....like a small room