DeathWyrmNexus
(?)Community Member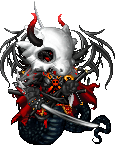 Posted: Sat, 26 Sep 2009 08:03:16 +0000
First of all, no, Fitness isn't a passive skill in the strictest sense. Though I may be lacking a couple game titles under my belt, I have never had to equip a passive skill before. I love Fitness, I truly do but I had an idea. After the swelling went down and I woke from the coma from all the pain of having such an idea, I consulted the mad oracle, Valheita, and received the blessing to make this thread after the sacrifice of a few n00bs. They won't be missed.

ANYWAY...

The initial thing I want to do is to point out the flaw in the Ghi system. It is something that brings intimate knowledge of the basic flaw of MMOs, we are encouraged/sometimes forced to hang out with assholes. While we are social creatures, we are also rebellious things that tend to despise coercion, even/especially the passive aggressive kind. So what Ghi does is make you feel gimped if you lack at least five people in a crew or nag at the back of your head to hit Barton Town to refill so that it can dwindle out again and so on.

Those who wish to hiss at me, I shall ask how much time do you spend gaping at the screen waiting to find yet another couple warm bodies just to have enough Ghi to silence the nagging feeling that you aren't "100%"... Basically Ghi constantly fluctuates and it is annoying.

Sooooo, assuming you are still with me, I present my idea.

Upgradable Passive Buffs
Basically think of Ghi that you buy with orbs and it stays at that certain level until you level it again or it finally caps out. You don't have to chase down the perfect six people for a crew, you don't have to wander into Barton and then mill around for a few seconds before running all the way back to where you were so you can watch it dwindle off again.

The downside is that you don't get it all at once and it doesn't automatically level with you. You actually have to pay for it with orbs, leaving the responsibility of what to purchase when entirely up to you.

The upside is that you don't have to maintain it after it is purchased. You don't have to do a special crew jig or hit town. You just play with whatever crew number you like.

The bonuses would not exceed what we would get from normal levels of Ghi improvements, you just wouldn't have to constantly maintain the numbers by constantly hunting down warm bodies.

Sidenotes:
I would think that Fitness would simply stack as it does now, giving you a boost in return for a ring slot.

Soloing actually bores me, I tend to go with crews. I just hate the nagging feeling of wanting to max out my buffs and improvement rate by seeking out more warm bodies just for a boost I should be able to buy with orbs.

Possible Special Abilities
Alright, so we get the abilities to manually increase so we all have a basic improvement over all stats but what about specialization and going above the basics?

Well the mad oracle Val was talking about specializing and while that would be bad for my base idea, as an add on idea, it is brilliant. So going with that example, where he mentioned having three slots, you would have three slots for special abilities.

This stacks with the basic idea I posted above, a supplement. You would also be able to buy all the special abilities however you would only be able to equip three at a time thus specializing in the role/theme/ideal you choose.

Special abilities could include a fourth boost to basic stats, status effects, immunity to certain status effects, even elemental attacks or buff improvements.